Dream Face Reveal
Popular Twitch streamer, Dream, also known as Clay has done a face reveal after several years of hiding his face behind an online alias that wears a smile mask. Not only have fans been waiting eagerly for this reveal, but also those who don't watch him. 
Dream is an internet personality that created the Dream SMP (survival multiplayer), which is a Minecraft server with other popular Twitch streamers. Although active since 2014, he only received his current amount of attention starting in 2019 and 2020. His Minecraft server became famous for its extensive storylines and features of famous creators such as Mr. Beast and Pokimane. 
The Dream SMP originally started with Dream, GeorgeNotFound, and Sapnap–who are also known as George and Nick. The reason for Dream's face reveal is due to him moving to Florida where he will live with the two other streamers, and promised fans that when he moves in with his friends, he will also do a face reveal.
Before his face reveal, Dream had FaceTimed many creators as a teaser to fans. He called creators such as Bella Poarch and Addison Rae, as well as other Dream SMP members like Tommyinnit and Ranboo. These creators released videos of them reacting to Dream's face, creating hype for his fan base and many others as well. 
On October 2, 2022, Dream posted a YouTube video titled "hi, I'm Dream" in which he hides his face behind his classic mask and then takes it off, revealing his face. 
Twitter trended the tags, "PUT THE MASK BACK ON" and "HE'S UGLY" with millions of tweets under each. Many who have hated Dream since his uprise were tweeting jokes about his face, and the video itself.
However, there were also many who were trending "HE'S SO PRETTY" which was a contrasting opinion with the former. 
Despite the different opinions of Dream, everyone was shocked nonetheless at his face reveal, as he has been holding off on it for two years now. 
He also made an appearance at TwitchCon, and it was rumored that he got "attacked" after posting photos of his injuries and claiming that he "fell out of bed."
However, after years of waiting, fans and many others are glad to see that the famous content creator is finally going outside of his comfort zone and showing his face to the public. 
Leave a Comment
About the Writer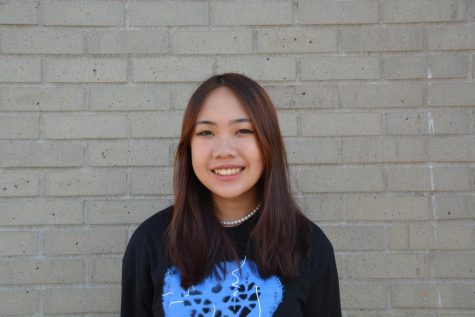 Keilani Abad, Photographer
Keilani is a senior at Aliso Niguel, and this is her second year of being part of the newspaper. She enjoys listening to music and playing video games....