Millie Bobby Brown is Engaged
Millie Bobby Brown is a young British actress who rose to fame after being in the critically acclaimed Netflix series, "Stranger Things." She plays the character Eleven who has supernatural powers that help her and her friends survive throughout the show. 
Brown has won many awards for her role in "Stranger Things." These include the Teen Choice Award for Choice T.V. Actress and the People's Choice Award for the Female T.V. Star. She is loved by many fans due to her talent and kindness to the younger generation.
However, in her personal life, she has had some hardships in her relationships. When she was younger, she dated Jacob Sartorius, who is also a popular influencer on social media. It was on and off for a couple years from when she was thirteen to fifteen years old.
She also had a relationship with a man who took advantage of her at such a young age and continues to be outwardly cruel to her.
Luckily, she met Jake Bongiovi in 2021 and on April 11 of this year, they got engaged. Jake Bongiovi is the son of the very popular rock singer, Jon Bon Jovi. He is one year older than Brown and has acted and produced movies.
They shared their exciting news on Instagram with Bobby's caption being from the Taylor Swift song, "Lover." Bongiovi kept it short and sweet with "Forever."
Fans were so excited in the comment sections, with many hardly believing it was true. Others joked that Brown could no longer marry her best friend and co-star, Noah Schnapp. They both once joked that if they didn't marry before they were forty, then they would marry each other.
Bongiovi and Brown met the old fashioned way: online! They continued to talk and initiated a solid friendship. This soon blossomed into love.
Since they are both A-list stars, they found each other by sharing a mutual friend. They dated for about two years and have shared many loving photos online that make fans swoon. 
Their first red carpet appearance was at the BAFTAs which showed they weren't afraid to make their relationship public, which can be tricky when you're always in the public eye. For Brown's eighteenth birthday party, they dressed up as the classic Barbie and Ken.
Despite them being so in love, people question whether or not they are too young to be getting married. One person says, "Child marriage should not be happening" and another writing, "Omgg too young." Still, others are showing great support for the love birds.
Actor Gregg Sulkin commented, "Congratulations mate" and the very popular Paris Hilton saying, "Congratulations beautiful!" to the newly engaged girl.
The two actors haven't given an actual confirmation, but since many of their friends are commenting their support, it is proven that they are happy and ready to be with each other forever. 
In Brown's past abusive relationship, she said that she "felt so out of control and powerless." Unlike that man, Bongiovi treats her how she deserves to be treated, he comments that "I love you more than words can describe. Everything about you is golden down to the core." They both truly show appreciation for one another each and every day.
We truly wish the best for this loving couple!
Leave a Comment
About the Contributor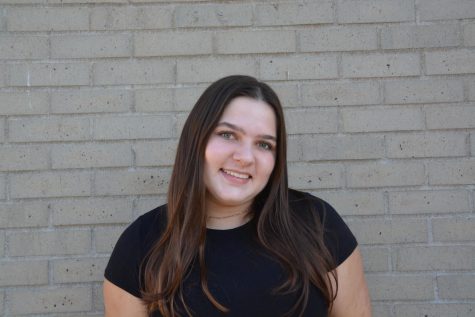 Madelyn Pelle, Copy Editor
Madelyn is currently a junior at Aliso Niguel High School and this is her second year on the newspaper. She enjoys practicing and competing with the school's...