Academy Awards Results
The 93rd Academy Awards aired live on Sunday, March 12, delivering awards to the industry's best performers and workers, both in front of the camera and behind. Hosted by Jimmy Kimmel, this ceremony honored both new actors on the come-up, as well as career-spanning actors deserving of recognition.
The first major win of the ceremony was Ke Huy Quan with Actor in a Supporting Role, for his performance in "Everything, Everywhere, All At Once." The actor had notable difficulty in finding roles after performing as a child star in the movies "Indiana Jones and the Temple of Doom" and "The Goonies." However, his recent performance was revered by audiences and critics alike, and as such, his win at this Oscars ceremony was met with overwhelming praise.
The next winner of the ceremony was Jamie Lee Curtis with Actress in a Supporting Role, again for "Everything, Everywhere, All At Once." While praised for her acting talent throughout her 50-year acting career, many consider this choice to be more of a lifetime achievement award, seeing as she was never previously nominated for an academy award in her illustrious career. However some audiences wish that her award was instead given to an actress with a more deserving performance, such as Angela Bassett in "Wakanda Forever."
"The pick for Best Supporting Actress feels more like a legacy award than an actual representation of who had the best performance. Like, come on," says Jake Yelvington (12).
Throughout the evening, German-made film "All Quiet on the Western Front," an adaptation of the novel of the same name, scored a number of oscars for its proficiency in numerous categories, such as Cinematography, Original Score, Production Design, as well as Best International Film. The Academy seemed to adore the movie, but its controversial reception among audiences leaves viewers of the ceremony upset at the results.
"Everything, Everywhere, All At Once" sweeped the ceremony this year with a total of nine Academy Awards being given to the film, including Best Director, Best Original Screenplay, and Best Picture. The movie, directed and written by "The Daniels"–Daniel Scheinert and Daniel Kwan– was praised both critically and commercially, making this come as less than a surprise to some. With that being said, it is assuredly a rational choice in all of the categories that it won.
However, complaints among viewers arose at the film for stealing the wins away from more deserving people, most prominently Steven Spielberg for Best Director and "Tar and The Banshees of Inisherin" as a whole, with the latter two movies not earning a single award despite being nominated for numerous ones.
Like always, complaints were leveled against the Academy Awards for its excessive length and consistency in cutting off the award speeches of its winners. Critics argue that the show has become bloated with self-absorbed, cheesy jokes that distract from the actual purpose of the show and reduce time for the winners to make their speeches. 
Notable jokes from the show include a person dressed in a bear costume, poking fun at the movie "Cocaine Bear," as well as Jimmy Kimmel bringing out a donkey to reference the movie "The Banshees of Inisherin." Along with these jokes, there were countless references to the Oscars slap scandal from the ceremony the year before.
While these complaints have merit, they have been made every single year, and as such do little in the way of actual change. Most of the viewing audience would find a three-hour award ceremony boring without any humor, and as such these jokes are considered necessary.
Two of the most notable awards from the show were the Best Actress and Best Actor awards, being given to Michelle Yeoh and Brendan Fraser respectively. These two actors were both hard-working and beloved figures in Hollywood, earning their oscars after lifetimes of work with little recognition. Both were nominated for their first Oscars ever this year, and both won, continuing a trend started by Ke Huy Quan and Jamie Lee Curtis at the beginning of the night.
Michelle Yeoh earned her oscar for her role as the main character of "Everything, Everywhere, All At Once," a much-deserved win according to many, due to the immense amount of care that she put into her performance.
Dara Jazaeri, ANHS student, thinks that "Michelle Yeoh was easily the best actress there and her award was very deserving."
Brendan Fraser earned his oscar for playing the main character of the movie, "The Whale," a major comeback for the actor after his departure from Hollywood over ten years ago. It was reported that Brendan Fraser was sexually assaulted by a Hollywood higher-up, and after he spoke up about it, he was blacklisted from the industry for years. The opinion of critics and fans everywhere seems to be that, after so much hard work to push his way back up from where he was, he delivered a phenomenal performance in "The Whale," and rightfully deserved his Oscar for Best Actor.
Finally, the biggest award of the night, Best Picture, went to none other than "Everything, Everywhere, All At Once," securing its position as the best film this year among the Academy. 
Dylan Anuskiewicz (12), when asked for his opinion, said, "I liked the movie, and I'm glad it won."
Leave a Comment
About the Contributor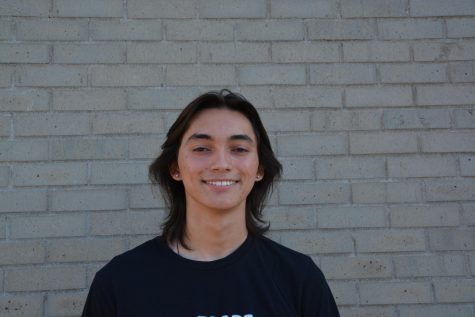 Everett Mattinson, Staff Writer
Everett is a Senior at Aliso Niguel who is starting his first year at the Growling Wolverine Newspaper. He enjoys writing and taking photos, and is looking...