Kanye West Spirals
Kanye West, famous rap artist, has created a successful career off his music for many years. He wrote and sang the famous songs "Flashing Lights", "Heartless", and many other songs. Along with his career, Kanye has built a family with reality star, Kim Kardashian (formerly Kim Kardashian-West). However, what seemed to be a bright future for Kanye has recently turned into a great disaster.
Kanye was diagnosed with Bipolar Disorder in 2016 along with other mental disorders. His once calm, unalarming attitude has converted to the opposite. Since his political campaign for United States President in 2020, Kanye has faced a drastic decline in his mental state. Kim Kardashian, his former wife, could not handle his mental well-being any longer and divorced him.
Kanye's recent divorce from Kim has led to a downfall both personally and professionally. Kanye has turned to offensive actions due to being in an unstable mental state. 
At first, Kim Kardashian began dating film actor and comedian, Pete Davidson, after her split from West. West immediately took action and began posting on his Instagram, attempting to defame Kim. Said Instagram posts included private conversations between Kanye West and both Pete Davidson and Kim Kardashian. Fans soon either became supportive or disagreed with Kanye's actions. Kim has taken legal action and has full custody of the former pair's children. Ishmal Haq, (12), stands strong with Kim, asserting that "Kim has every right to do what she did. That guy is clearly insane and is not the right type to raise their kids. The Instagram posts were also a bit wack." This instance was the first of what would become the downfall of Kanye. 
The most notable of Kanye's offensive takes are his anti-semitic ones. Kanye in an interview with Alex Jones revealed that he praises Hitler. The media immediately became infuriated with this claim, but it did not stop there. Kanye continued on his anti-semtic rampage, creating a new logo for his brand which resembles the Nazi swastika. 
Many brands have additionally cut off ties with the famous artist. Such brands include Balenciaga and Adidas. As Kanye continues to lose support both professionally and from his fans, he faces major issues in his future, mainly financial. Celebrities have additionally spoken up on the Kanye situation. Such celebrities include the supermodel Gigi Hidad and Amy Schumer, a film actress. 
Many fans have become outraged with Kanye's new behavior and begin to lose interest in him. Fans on TikTok have spread awareness about Kanye's actions and encourage others to boycott his music in order to prevent any revenue. Logy Katkout, (12), claims that "what Kanye is doing is seriously messed up. I have Jewish relatives and ancestors who were sent to concentration camps. This is not a joke."
All of the issues Kanye West has created are ultimately ruining the rap artist's reputation. In just a matter of years, Kanye West may fully lose support from all that once had his back.
Leave a Comment
About the Contributor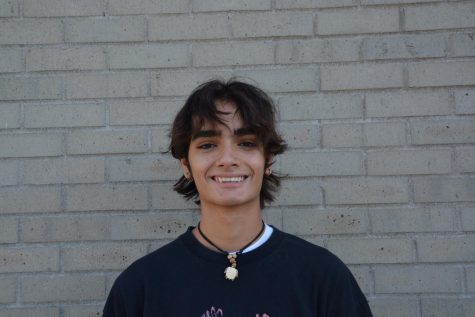 Ryan Saadai, Comic Illustrator
Ryan is a senior at Aliso Niguel High School. This is his first year in the newspaper, and he is so excited to join the Growling Wolverine team. He loves...