Award Season Wrap-Up
The Academy Awards, also known as the Oscars, took place on Marh 27, 2022. Celebrities attend the awards ceremony at Dolby Theater in Los Angeles. They were hosted by Regina Hall, Amy Schumer, and Wanda Sykes.
The show started with a pre-recorded video of Beyonce performing the Oscar-nominated song "Be Alive," an original song from the film, "King Richard" and was filmed at the Tragniew Park Tennis courts in Compton, California. The same tennis courts where Venus and Serena Williams began practicing tennis.
 "It's always wonderful to see them [Beyonce and Jay Z] at tennis and it's always good when you can just rely on someone and know that they're always in your corner, whether they are there or not. That's kind of how it is with us," reported Serena Williams to E-News.
History was also made when actor Troy Kotsur won Best Supporting Actor for his role in 'CODA.' Kotsur became the second deaf actor to win an Academy Award. 
'CODA' also won Best Picture. 'CODA' stars Emilia Jones as Ruby, a 17-year-old girl whose family is deaf. Ruby is faced with the tormenting decision of helping the family business or following her dreams to go to Berklee College of Music. 
The most memorable moment of the Oscars, however, was the confrontation between Will Smith and Chris Rock. As Chris Rock was ready to introduce the next event, he made a joke about Jada Pinkett Smith, Will Smith's wife. Rock compared Pinkett Smith's hair loss to the movie "G.I. Jane." However, Pinkett Smith was offended by Rock's words since her hair loss was from alopecia. This made Will Smith get up to the stage where Rock was and slap him in the face. The audience was shocked and didn't know whether it was staged or not, however many people reported that it was not staged. Moments later, Smith won Best Actor for his role in "King Richard," which made it his first Oscar. Smith ended his speech by saying, "I look like the crazy father, just like they said about Richard Williams. Love will make you do crazy things."
The Grammy's was the following weekend, where artists gathered at the MGM Grand Garden Area in Las Vegas. The award ceremony was hosted by Trevor Noah. 
Some of the most memorable performances were Silk Sonic performing their song "777." Olivia Rodrigo performing her hit "Drivers License," and Billie Elish and her brother FINNEAS performing "Happier Than Ever," in which she paid tribute to artist Taylor Hawkins. BTS was given the title of the artists that best performed out of the sixteen by Billboard. Pop sensation, BTS, performed their smash hit "Butter" in a James Bond-inspired styled performance, to which the audience responded with a standing ovation. 
Silk Sonic, which is composed by Bruno Mars and Anderson Paak, won the Grammy for Song of The Year and Record of The Year for their sensation, "Leave the Door Open." While songwriter-singer, Olivia Rodrigo, took home the award for Best New Artist. Jon Batiste received the grammy for the Album of The Year, for his album "We Are." 
"I believe this to my core: there is no best musician, best artist, best dancer, best actor," stated Batiste in his acceptance speech. "The creative arts are subjective and they reach people at a point in their lives when they need it the most."
Leave a Comment
About the Contributor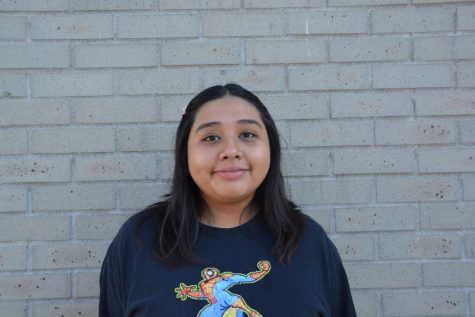 Jaylenne Pliego, Photographer
Jaylenne is a senior in high school, and likes listening to music and editing. She also enjoys writing articles.