ANHS Students Speak at State Capitol
On Feb 7, two Aliso Niguel students joined other representatives to speak in front of state legislators to advocate against domestic violence and urge these politicians to take action.
Ana Campos (11) and Randi Zuckerman (12) were given this opportunity by serving as interns for the organization Laura's House, a domestic abuse shelter local to Orange County. 
Laura's House holds intervention and educational programs in order to diminish the harmful effects of domestic violence. The organization is currently seeking to open a Domestic Violence Resource Center here in Aliso Viejo, CA. 
The California Partnership to End Domestic Violence invited other representatives from organizations such as OneLove, Peace Over Violence and S.A.V.E. to address around 15 legislators. Other teenage advocates spoke on their personal experiences with domestic violence. 
Campos explained that she is passionate about the issue because she herself is a survivor of abusive relationships. She adds that so many teens face these problems and "if we don't stand up for them, who will?"
According to the organization Love is Respect, 1 in 3 teenagers  "will experience physical, sexual, or emotional abuse from someone they're in a relationship with." 
For this reason, Campos believes that the current situation is a "global health problem", and requires immediate attention. 
Earlier this year in January, the California Partnership Coalition requested that $50 million be invested by the state into funding for domestic abuse victims. They suggest that the money be used to fund organizations that aid those suffering from domestic abuse as well to cover the overall goal of making help more accessible. 
At Aliso Niguel, Randi Zuckerman is the president of the Laura's House chapter. Her club seeks to promote greater awareness of domestic abuse and sexual harassment, especially amongst teenagers. 
Zuckerman explained that meetings are centered around "educating our members on different forms of abuse such as domestic violence especially when it comes to teen dating." In addition to informative meetings, the club has also hosted bake sales to fundraise for hygienic products as well as clothing drives for victims in need. 
On this same day (Feb. 7), the Laura's House club at Aliso Niguel organized an "Orange Day" to raise awareness about teen dating violence by wearing the color orange to class. 
Speaking from her experience as a club member of Laura's House, Chloe Brousett (12) explains "I've seen the effect that domestic abuse has on people" and she wishes to spread awareness to young individuals so that they can avoid having these negative experiences in the future. 
Brousett also added that "Randi and Ana going to the capital was extremely inspiring and motivating" and she feels that they are making a crucial difference to other people our age. 
Both students were extremely grateful to speak out on a topic they are deeply passionate about. The Laura's House organization flew them to Sacramento and paid for their stay. They hope they can continue to collaborate with the organization in the future to advocate for the women and men that suffer from domestic abuse. 
Leave a Comment
About the Contributor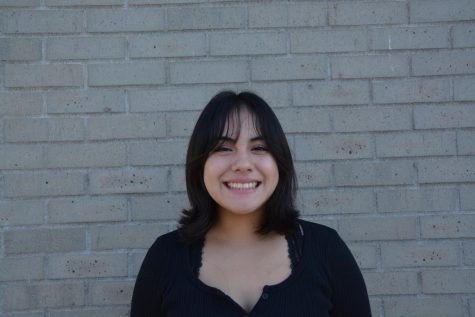 Ashley Aguirre, Senior Editor
Ashley is a senior at Aliso Niguel High School. This is her third year writing for the Growling Wolverine Newspaper and she is now a Senior Editor. In...