M3gan Review
 M3gan, the newest Blumhouse release, the studio known for movies such as The Black Phone and Happy Death Day, tells the story of an artificially intelligent toy named M3gan who becomes too overprotective over her owner for her own good. 
    The premise of the movie features Gemma, played by Alison Willimas, a toy designer who is given guardianship over her niece Cady, played by Violet McGraw, after her parents are killed in a car accident. Gemma notices that Cady is having difficulty adjusting to her new life, and completes her long awaited project M3gan to comfort Cady. Things take a turn when M3gan's knowledge grows, and her desires span much further than simply being a friend to Cady. 
    Unlike other horror movies, M3gan leans into the absurdity of the concept. The film excels as creating a scary atmosphere, while also being self aware with its comedic element. The fun with M3gan is that it doesn't take itself too seriously, and leaves for a far more enjoyable and entertaining atmosphere. 
     The film's horror factor is largely due to automatonophobia, or the fear of human-like objects such as wax figures or human-like robots. The human brain naturally finds these images upsetting and unsettling, which is what makes M3gan so terrifying. The film used an actress named Amie Donald to portray the physical movement of M3gan, and the actress Jenna Davis provided her voice. In post production Donald's movement and Davis' voice were altered to create a hybrid between human and robot. 
     Audiences have flocked to theaters to view the film, and the film has had massive success. As of Jan. 24, the film has grossed $74.7 million in the US and Canada, and $51.7 million in other countries. Critics rate the film as 94% on Rotten Tomatoes and a 79% audience score. 
    According to Rotten Tomatoes, the film is "unapologetically silly, and more entering for it, M3gan is the rare horror-comedy that delivers chuckles as effortlessly as thrills."
     M3gan's success is largely due to the titular character's popularity on social media. The original trailer went viral due to M3gan's signature dance, and has been replicated across social media. Blumhouse went a step further and began sending out M3gan's in real life to promote the film. 
      According to the Daily Beast, actresses dressed as M3gan "have been specifically unleashed on New York City creeping out everyone on the subway and on top of the Empire State Building."
       M3gan also has her own social media page where she posts content pertaining to today's latest events. As the film had become so popular before its release, especially with teens, Blumhouse reworked the film to better suit a PG-13 rating rather than its original R, to better allow for teens to see it. 
       The film has reached such high success that Blumhouse has already confirmed a sequel titled M3gan 2.0 that will be released in January of 2025. 
       Overall the film makes for a great introduction to the horror genre, and countries to follow the latest trend of comedy mixed into horror. While not incredibly scary, the film can be unsettling, and leaves the audience to wonder about a world with M3gan.
Leave a Comment
About the Contributor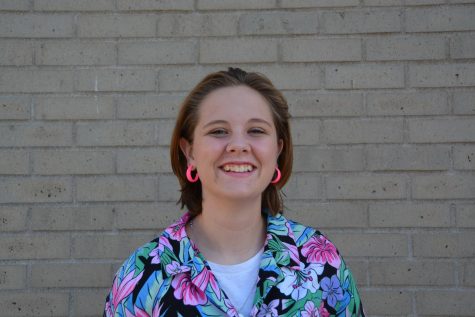 Isabel Cravens, Copy Editor
Isabel is currently a senior at Aliso Niguel. This is her third year in newspaper, and she is very excited to write again for the Growling Wolverine. She...