Capitol Hill Infiltrated by Trump Supporters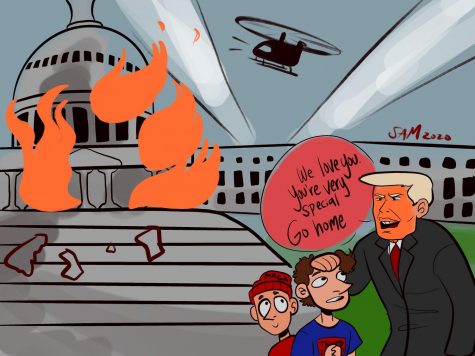 Last Wednesday, Jan. 6, pro-Trump ralliers mobbed Capitol Hill in Washington D.C. to protest Joe Biden's certification as the new presidential elect, for they consider President Trump as the rightful election winner.
   President Trump hosted a "Save America" rally that morning at the Ellipse, a park near the capitol. Trump aimed to address the supposed fraudulent election and to rile people to make necessary change.
   To conclude his speech, Trump said "We are going to walk down Pennsylvania Avenue… and we are going to the Capitol, and we are going to try and give… our Republicans—the weak ones because the strong ones don't need any of our help—we're going to try and give them the kind of pride and boldness that they need to take back our country."
  Rally attendees, protest signs in hand, followed orders and marched down Pennsylvania Avenue. Once reaching Capitol Hill, the situation escalated quickly. Riots formed outside the building until eventually breaching security borders and breaking inside. 
  In order to stall the vote count, mobs pushed into the senate chamber as votes were being certified. Senators and representatives were guided to a safe location until the lockdown concluded. Electoral ballots were also removed from the area to ensure votes would not be damaged.
  Rioters gave no consideration for the national landmark by breaking windows, destroying property, stealing government possessions, climbing walls, lowering American flags, and even taking photos inside. One man identified as Richard Barnett pushed his way into Nancy Pelosi's office. While shown lounging at the desk, Barnett also allegedly read through and stole her mail, which is a federal offense.
  Illinois Senator Tammy Duckworth, featured on NBC News, said "For my entire adult life, I have defended people's rights to protest, and peaceful protest is something that I absolutely support, but this is a mob. This is a riot. These are people who are not practicing democracy."
  Inside the building, gunshots and chants of "Stop the Steal" could be heard. A total of five people lost their lives in the rampage: three protestors and one police officer. An Air Force veteran was fatally shot in the neck by police while climbing through a barricaded doorway. Numerous rioters sustained injuries on Wednesday from various causes, many of which from falling off the scaffolding.
  Trump took to Twitter to dispel the mobs, stating "This was a fraudulent election, but we can't play into the hands of these people. We have to have peace. So go home, we love you, you're very special."
  Police involvement was stifled, for the officers were heavily outnumbered by protesters. However, some policemen were photographed taking selfies with rioters amidst the chaos. People have also noted the lack of police force in this situation compared to the Black Lives Matter protests a few months prior, along with Trump's contrasting reactions. As of current news, only 52 citizens have been arrested thus far. 
  Senators continued the vote certification process once the riots subsided and mobs were cleared. About six hours after the initial storming, senators confirmed that Joe Biden will become the 46th President of the United States.