US Knocks Down A Third Unidentified Object
The US shot down its third unidentified object in three days. The "balloon-like" object was stationed over Lake Huron, but had also been detected over Montana a day earlier. An F-16 fighter jet shot it down after the orders of President Biden and military leadership. 
Press secretaries mentioned that the location of the object—20,000 feet above the land— was surprisingly close to sensitive Department of Defense locations. They stated that the object posed a risk to commercial aircraft in that region. 
Pentagon Press Secretary Brig. Gen. Pat Ryder states, "We did not assess it to be a kinetic military threat," but that the object was a hazard "due to its potential surveillance capabilities." The downing of this unidentified object follows two other drownings: a shooting of a cylindrical hovering object above the Canadian Yukon territory and a "high altitude" object over the coast of Alaska. 
After later surveillance, the object was determined to be an octagonal structure with strings extending from it. There was no evident payload. Following Biden issuing a government-wide effort to find what is taking place, examinations for all four devices (including those previously downed) are underway. More debris is being searched for as US military personnel are diving into the cold waters of Michigan's Lake Huron in search of other particles. 
The now totaling four flying objects have brought concern to US officials. Some say that these objects pertain to a "fleet" operating over several continents, while others believe that certain nations have increased their surveillance over others. Another explanation for the rise in sightings could be heightened vigilance. Since the Chinese spy balloon was spotted over the US, the Pentagon and observance agencies have been viewing the sky with increasing scrutiny. 
The White House, on the other hand, aims to assure civilians that the objects do not belong to any extraterrestrial organisms. "I know there have been questions and concerns about this but there is no—again, no—indications of aliens or extraterrestrial activity with these takedowns," states press secretary, Karine Jean-Pierre. While these accusations seemed odd at the moment, the White House wanted to reassure the public that the objects posed no harm.
Instead of extraterrestrial life, officials believe that the objects follow a pattern. The search for more answers continues as Biden prompted the national security advisor to lead an "interagency team to study the broader policy implications for detection, analysis, and disposition." Two of the three objects were believed to have some sort of payload, while all of them were found not to send communication signals or have propulsion capabilities. 
Amid the search efforts, others emphasize the military worldwide have been investing in surveillance technology, something that is expensive but can provide important information and linger over targets for many days. While the race continues to find balloons that are more durable, accurate, and efficient, the US also continues to develop technically advanced balloons.
As of now, officials believe that gathering more information is the primary task at hand. Locating and analyzing the pattern of the projectiles is a primary goal as more examinations are underway. 
Leave a Comment
About the Contributor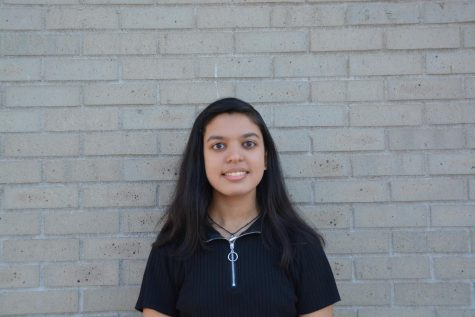 Akshata Tiwari, Senior Editor
Akshata is a senior who loves to be creative and put her mind to things. She has been in the newspaper for three years, and is excited to finish her final...