Ms. USA wins Miss Universe
On Jan. 14, 2023, R'Bonney Gabriel, from the United States, was crowned Miss Universe in the final round of the 71st Miss Universe Beauty Pageant in New Orleans, Louisiana. The pageant took place with 84 women from different parts of the world. She beat finalists Amanda Dudamel, representing Venezuela, and Andreína Martínez, representing the Dominican Republic.
  This year, in the 71st Miss Universe Beauty Pageant, she became the first Filipino-American to win. She had lived in Houston, and has worked as a model, fashion designer, and sewing instructor. 
   During the Miss Universe Beauty Pageant, the contenders were asked their opinions on different topics. When Gabriel was in the top five contenders she was asked, "Miss Universe recently made an inclusive change allowing mothers and married women to compete this year. What's another change you'd like to see and why?"
She responded saying, "For me, I would like to see an age increase because I am 28 years old. And that is the oldest age to compete. And I think it's a beautiful thing. My favorite quote is 'if not now, then when?' Because as a woman, I believe age does not define us. It's not tomorrow, it's not yesterday — but it's now. The time is now."
   When she was among the top three contenders, the final question was about how they would use the title of Miss Universe to demonstrate an empowering and progressive organization. Gabriel stated that she would use her position to be a "transformational leader." She also restated her passion for diminishing pollution in the fashion industry by using recycled materials. 
  Gabriel's outfits throughout the pageant also received a lot of attention. Early in the pageant, she wore a rising phoenix inspired red-orange cape with the quote, "If not now, then when," which she dyed herself. The quote was inspired by the advice of Gabriel's father's to take action in regards to dreams, desires, and goals. 
  On Jan. 12, she fashioned a NASA-inspired moon costume. The outfit was in reference to the Apollo 11 lunar landing and the Artemis program. The outfit included a scale-sized moon over Gabriel's head surrounded by a frame of silver stars, and her body suit was covered in red, white, and blue lights. She also carried an American flag, and wore thigh high silver boots that matched with her headpiece. 
She revealed her outfit on her Instagram with the caption: "WOMAN ON THE MOON. On July 20, 1969 two U.S astronauts became the first humans to step foot on the moon accomplishing one of the most remarkable achievements in human history. Fast forward to today and women are involved more than ever in the Artemis program aiming to send the US back to the moon. As a Houston native, where the NASA space center is located, I am proud to be from a city working to send the first female to the moon. The purpose of this costume was to inspire women in all spaces across the universe to dream big, shoot for the moon and achieve something out of this world."
Leave a Comment
About the Contributor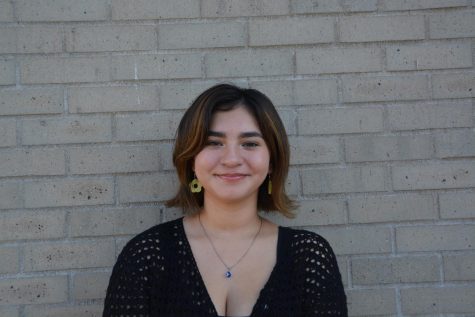 Mia Roman, Social Media Coordinator
Mia Roman is a senior at Aliso Niguel High School. This is Mia's third year on the Newspaper Staff. In her spare time, Mia enjoys listening to music and...