GOP Candidate Arrested
Republican Soloman Peña was arrested by the Albuquerque Police on the 16th of January, in a string of shootings targeted at Democratic lawmakers and officials in New Mexico. Peña is currently accused of conspiring with and paying four men to shoot at two Bernalillo County Commissioners and two state legislators.
Police have suspected that the cause might have been motivated by anger over the loss of the previous election. Peña lost his election to Democrat Miguel P. Garcia by 74% to 26%. He took his results to three county commissioners and a state senator, some of whom were targeted in the shooting. 
In those meetings, the discussion became tense. Police spokesperson Gilbert Gallegos stated, "One led to quite an argument, I believe. It was shortly after that the shooting occurred."
Gallegos continued, stating, "He [Pena] had complaints about his election he felt were rigged. As the mayor said he was an election denier–he doesn't want to accept the results of his election."
Albuquerque Mayor Tim Keller also commented on the situation on Twitter. He states, "This radicalism is a threat to our city, our state, and our nation. We will continue to push back against hate in all forms and stop political violence."
The investigation started on the 3rd of Jan. on a traffic stop. Jose Trujillo, who was driving Pena's Nissan Maxima, was arrested based on a felony warrant, stated the Police. Police conducted an "inventory search" and found more than 800 fentanyl pills in the center console.
Two handguns were also found in the Nissan, one that appeared to have fired shots outside the home of state Sen. Linda Lopez, stated the police. Each targeting of the victims happened in a different week. It began with the home of Bernalillo County Commissioner Adrian Barboa being shot on December 4, State House Speaker Javier Martinez on December 8, and Bernalillo Commissioner Debbie O'Malley on December 11, with Sen. Linda Lopez being the most recent victim.
Police are still investigating whether the rest of the people involved knew who the targets were. Police Chief Harold Medina stated, "It is believed that [Peña] is the mastermind behind this."
Peña has also been arrested in the past for burglary, which was also a reason why he was ineligible to serve in the Legislature. Peña was arrested by the SWAT team in his apartment in the Albuquerque area. According to a warrant, Peña is currently facing charges of felony possession of a firearm, criminal solicitation, attempted aggravated battery with a deadly weapon, shooting at or from a motor vehicle, four counts each of shooting at an occupied dwelling, and conspiracy.
Leave a Comment
About the Contributor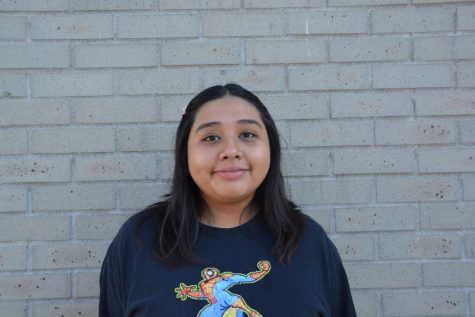 Jaylenne Pliego, Photographer
Jaylenne is a senior in high school, and likes listening to music and editing. She also enjoys writing articles.