Aliso Niguel Shelter in Place
On Wednesday, Oct. 26, at approximately 12:20 pm, a threat was made in a classroom by a substitute teacher. The threat was reported by a student, and the Sheriff's responded and took the suspect into custody. During the incident, the school was put in a shelter-in-place for about 40 minutes. 
Mr. Hatcher, Principal of Aliso Niguel High School acknowledged that "We went to the room where the report came from, and the administrators were there first to separate the adult from the class,  and the sheriffs arrived shortly after and followed their protocol, and we decided to put the shelter in place." 
He continued by saying, "A shelter in place is defined as having students in the classroom so that they aren't in danger, walking around. Once the sheriff's investigation would not be impeded by a bunch of students walking around, that's when we opened it back up."
After a threatening remark was made to one of the students, the Aliso Niguel High School faculty took the necessary precautions to ensure things would not escalate any further. Multiple units swept the school out of an abundance of caution. Nothing suspicious was located on school grounds, and the threat was neutralized, allowing the school to continue as usual for the rest of the day. 
Mr. Hatcher also mentions, "It was my decision to call 911 based upon the information I had. I always want to be on the safety side and when there's a threat from an adult to a kid I take that seriously. I'd rather call when they aren't needed than not call when they are needed."
A nationwide epidemic of violent school threats is producing fear, anxiety, and alarm for educators, children, and parents. Although many of these threats turn out to be trivial, they must be investigated and taken seriously. It's crucial for administrators to play it safe and avoid the risk of a threat turning true. 
When talking about the substitute teacher requirements, Mr. Hatcher claims that "You've got to have a college degree and pass the CBEST, those are your credentials to be a substitute teacher." He assures that "everyone does a background check and a fingerprint check through the Sheriff's Department as well. I'm sure there might be more steps but I'm sure that there are thorough checks."
Without substitute teachers, minor hiccups like absence due to illness, professional development, family leave, and jury duty could cause major complications. Quality substitute teachers contribute to maintaining progress in the learning environment and help to promote student achievement. By investing in classified K-12 substitute teachers, school districts can minimize disruptions and maintain forward momentum in spite of teacher absences.
Additionally, Sgt. Todd Hylton, the Orange County Sheriff's spokesman, mentions that there was a pocket knife discovered inside the classroom in a bag belonging to the teacher, James Setterholm, 69, but he claims that "he never accessed it and it wasn't part of the incident." 
Setterholm has worked as a substitute teacher with the Capistrano Unified School District since 2012, according to Ryan Burris, the district spokesman. He was booked on suspicion of making criminal threats and possessing a weapon on school grounds. He is being held at the Theo Lacy jail as of Friday, and his bail was set to $50,000. 
Mr. Hatcher adds, "I can't share specifically what consequences will happen to students but just know that we are investigating, we're talking to everybody we possibly can, and if there were school rules that were broken, we will follow through with the proper consequences according to our CUSD discipline."
Although the teacher made the final threat, the administration at Aliso Niguel High School is currently in an ongoing investigation to determine what instigated the confrontation in the first place, and why the teacher was driven to make such a startling threat.  
Leave a Comment
About the Contributor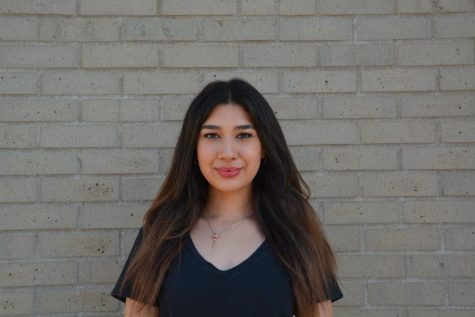 Yasmin Marouf, Staff Writer
Yasmin is currently a junior at Aliso Niguel High School, and she's thrilled to be a part of The Growling Wolverine newspaper for the first time! She...