Street Car Coming to Santa Ana
In 2024, Santa Ana will be witnessing the completion of its long awaited electric streetcar. The project has cost a total of 504 million and has caused massive upheavals for the local merchants by disrupting main commercial roads. The Streetcar is bound to bring in more business into Santa Ana, but residents are concerned by the possible consequences of more revenue.
Numerous Santa Ana residents have taken up protest in order to prevent gentrification in their area. Gentrification is the process of changing the internal characteristics of a neighborhood by bringing in new inhabitants and businesses.
Yohana Rojas, a painter with a long experience of living in Santa Ana stated, "The streetcar is going to bring improvements, but… the first thing that will go up is our rents, and we're going to have to leave. What good are those improvements for us then?"
Unfortunately, the Latino community is strongly threatened by the speedcar's construction, which is bound to bring in replacements for Latino owned businesses. Rising prices would cause the replacement of many families who struggle to get by with a wealthier population and fracture the cities' identity.
Others have argued that the speedcar will bring more fortune to the folks of Santa Ana, with businesses being able to cater to high-end customers. Also, homeowners stand to benefit from property values going up. However, there are too few homes to accommodate for the expected new residents leading to a mass exodus of the original homeowners. 
The speedcar's construction has encountered protest since its announcement in 2014, yet seemed to be a convenient solution for a city whose majority do not have access to a car. 
Miguel Pulido, former mayor, expressed his wishes for the speedcar to become "a big melting pot that brings people together and brings prosperity and a stronger economy to all."
The speedcar provides a safe green alternative for many of the residents who don't own a car, but it comes at a heavy price for the citizens. During its construction, a historic community gathering site was destroyed, causing inconvenience for citizens, while also leaving a lasting scar on the cultural identity of the city. The area was well known for its Mexican Independence Day parades and would bring in flocks of tourists who were eager to witness the event.
Protests have recently sparked following significant decreases in local business sales as customer access is further obstructed by construction. Merchants demand the OCTA, the Orange County Transportation Authority, to pay financial aid in order to minimize the damages done towards their sales.
The city has provided some financial support, but the merchants still remain unsatisfied with the amount given.
Local business owner, Maribel Gomez, stated, "The city has helped us but it's not enough, they gave me half of the rent. I do not just pay half of the rent in my life, I have other things to pay my house bills, rent, insurance."
While the streetcar could unite many citizens within Santa Ana, there is no doubt that gentrification will be fueled by its completion. Only time will tell how the Latino community and local businesses will thrive in the ever changing identity of Santa Ana.
View Comments (2)
About the Contributor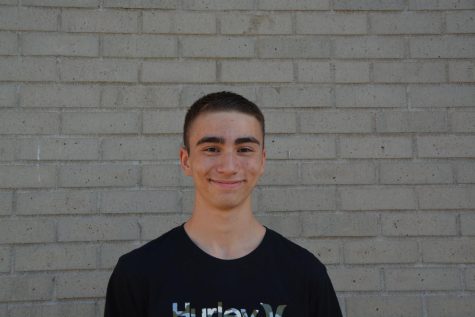 Stephen LaRocca, Staff Writer
Stephen is a Junior at Aliso Niguel High School and is excited for his first year in the Growling Wolverine. He spends his free time hanging out with friends,...