Free Breakfast in School
For the duration of the 2022-2023 school year, one free breakfast and one free lunch is served to all CUSD students. To improve students' learning, the cafeteria makes nutritious meals offering whole grains, protein, fruits, vegetables, and milk. Students are encouraged by the district to remain energized all throughout the school day.
Free meals have been served since the start of the 2021-2022 school year due to the COVID-19 pandemic. Families that buy groceries to keep safe from the virus are able to maintain their household budget. The Food and Nutrition Services team deliberately follows the Healthy Hungry Free Kids Act, so there is no need to worry about being fed healthily.
Breakfast food on the menu consists of assorted benefit bars, cereal, cinnamon swirls, bagels, and pizza sticks. Many students' favorite breakfast has been the bagel with cream cheese and pizza sticks. Unfortunately to many students, breakfast food is only served at times before lunch time and no meals are offered after school. 
Lunch food on the menu consists of bean and cheese burritos, spicy chicken sandwiches, and pizza. From time to time, daily lunch specials may be served on school days. The spicy chicken sandwich has been a lunch favorite since last year and still continues to be a favorite today.
Due to the policy, more students have been getting the school's breakfast and lunch food.
Paige Bergman (10) eats the free breakfast frequently when she gets to school. "I think the free food is really nice because it's a nice little backup if I don't have food."
Students enter their school ID in the pin pad inside of the cafeteria to get their food. They can order the food of their choice as long as it is being served that day. Unfortunately, food shortages nationwide have spread to the Capistrano Unified School District, so unavailable food items and changing menus will be common during the school year. The food shortage has continued from the previous school year and has been a struggle for the staff, considering such high demand for food.
The cafeteria becomes crowded as a popular spot to grab a snack before and during passing periods. The line for food especially builds up during lunch time, but students do not seem to mind the line because they are given free meals throughout the school day.
Grateful for the rule, Haley Said (10) says that "the free breakfast is very beneficial for people who are running late in the morning and don't have time to eat." 
Despite being the most important meal of the day, students tend to skip breakfast when they wake up late and are too frantic about getting to school on time. Now that free breakfast has come into action, they do not have to get worked up about being hungry and needing to wait till lunch to eat. 
Special diets for medical conditions can be requested to the district. The school's cafeteria is willing to adjust their meals to fit anybody's situation. In view of the fact that schools are committed to care for students using the free breakfast program, time spent shopping and preparing meals can easily be saved.
Leave a Comment
About the Contributor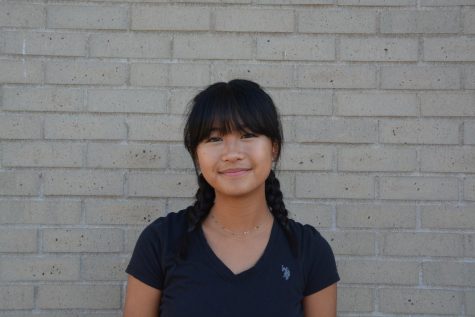 Mae Villamil, Staff Writer
Mae is a high school sophomore and this is her first year in newspaper. Mae practices color guard and spends time with her friends and family. She enjoys...