A Heat Wave Starts the School Year
Tuesday of Aug. 30, 2022 marks the start of a heat wave in California, caused by a heat dome that is known to be an "atmospheric lid" that closes in hot air. In addition, it has intensified even more by human-caused climate change. The highest temperature reached up to 110 degrees in several Bay Area cities and temperatures rose high enough to potentially start a fire.
According to the San Francisco Chronicle, Fairfield tops Bay Area's highest temperature of 116 degrees on a Monday afternoon. Additionally, Death Valley reached 120 degrees for five days straight, coming close to the world record of 126 degrees in September. Under all of these heat warnings, the air quality has worsened dramatically, which took a toll on many people living in California.
Mental health feels the same for most, considering the air conditioning indoors. Still, unmotivation and fatigue has been overwhelming to the extent of feeling drowsy day and night.
 Kat Tran (10) complains, "I felt way too worn out to do anything." 
Several students claim that their study habits are being affected. For the excessive amount of exposure to heat, many feel exhausted trying to do work and are too tired to study. With the lack of concentration to do school work, students resulted in their grades dropping earlier in the year than expected.
Physical health certainly worsened, especially acting upon students with certain medical conditions as well as athletes in the school. Working outdoors at this time is very risky, for it is easy to get heat strokes and heat exhaustion.
Jessica Chiu (10) on the girl's varsity tennis team says, "The heat became so bad to the point where tennis matches had to be canceled and delayed." 
The majority of sports practices still pushed through, however, students received gatorade by the school's staff and were even sprayed with water to cool off warm bodies. 
The safety of workers during these extreme temperatures has been strictly ensured. Washington Post states that the California Occupational Safety and Health Act (OSHA) severely watches over companies that have to do with tree-trimming, agriculture, landscaping, warehouse fields, and car wash, since work takes place outside. The law requires employers to stock water for employees, access shade often, and regulate more breaks. 
"Flex Alerts" have been called by the California Independent System Operator (ISO) to inform others about conserving energy for the prevention of power outages. Fortunately, there were rarely any outages in Southern California. If any, they lasted for less than a minute, but did end up affecting machinery. 
Lexi Burgonio (9) mentioned, "My house didn't have AC so it was hard to sleep and do anything at home."
 Several students have claimed to be under uncomfortable conditions during the heat wave. 
As October comes around the corner, the California heat wave carries on in excessive high temperatures. Students will be stuck wearing t-shirts and shorts rather than the sweatshirts and jeans that they have long awaited to wear since the summer. The current heat wave will assure that the fall season this year will not be the same as ones in the past.
Leave a Comment
About the Contributor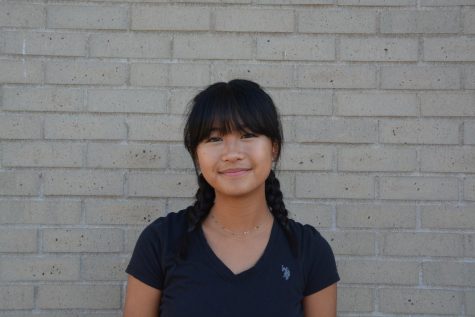 Mae Villamil, Staff Writer
Mae is a high school sophomore and this is her first year in newspaper. Mae practices color guard and spends time with her friends and family. She enjoys...