Racist Slurs Yelled At Portola High School Student
n Jan. 25, Sabrina Brown, mother of Makai Brown, posted an Instagram post with a video of a basketball game between Portola High School and Laguna Hills High School. The video contained the voices of Laguna Hills students shouting racial slurs directed at Makai Brown, while he was shooting free throws. The game occurred on Jan. 21. 
Some of the racial slurs include "chain him up" and "who let him out of his chains?" 
The video, as of Feb. 17, has over 173,000  views. 
"He came into my room STUNNED. What he heard directed 100% to him is contained in this video, but these disgusting, racist insults continued throughout the entire game footage," Sabrina Brown stated in the Instagram post. 
According to the same post, the Laguna Hills basketball coach, David Yates, also directed verbal abuse and aggressive behavior towards Makai. Makai's father yelled at the coach and his verbal response got him escorted out of the game. 
The Saddleback Valley Unified School District's Superintendent Crystal Turner responded to the incident. The student who had shouted the comments was confirmed to be a Laguna Hills High School Student. 
"Although apologies are necessary, they do not suffice. The words used by this student will never be acceptable. This is a learning opportunity for our school communities that there is ongoing work to be done in building continued mutual respect and understanding." (Dr. Turner)
Meanwhile, Irvine Mayor Farrah Khan expressed her support for the Brown family. She stated on Twitter that the response from Saddleback School District was not enough.  
"I want to see action taken that sends a clear message to everyone that there are serious consequences to hate and racist speech," Khan wrote. 
 Currently, Laguna Hills' Instagram account is set private. However, Coach David Yates posted an apology on Twitter.
"I apologize for the shameful and abhorrent racist language directed at [Makai] from a LHHS student during our game last week. I apologize as the Head Coach of the program, and I apologize as a human being." 
He included an apology from the basketball staff to Makai's father. He clarified that he was not speaking towards Makai, but as his own player. He believes Makai thought it was directed towards him. 
"To conclude, of course I personally and professionally denounce all racist speech, actions, and more importantly the warped mindset which produce them," Coach Yates stated at the end.
On the Laguna Hills' school website, a message pops up from Principal Bill Hinds, regarding the incident. 
"Those awful words go against LHHS's vision of empowering our students to build a better world through mutual respect and intercultural understanding," he states. 
Laguna Hills is planning to create listening sessions for the following weeks for students, staff and families. They hope to allow them to express feelings through "guided conversation."
After the video went viral, J.J Jones gifted Makai a $20,000 scholarship for college. Jones posted the video of the surprise on his Instagram on Jan. 29. He is a businessman and mentor in Orange County. Besides the scholarship, Jones awarded Makai an internship with a sports agency, Athletes First, and one-on-one basketball training. 
"My only goal was to make sure that the experience he went [through] wasn't his last memory of basketball," he wrote on Instagram.
Leave a Comment
About the Contributor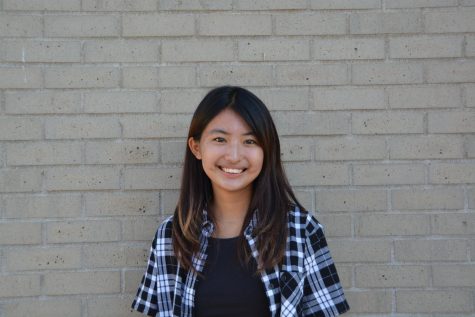 Kiara Azuma, Senior Editor
Kiara is a senior at Aliso Niguel High School and this is her third year writing for the Growling Wolverine. She is excited to be part of the school newspaper...