Broadway Night
From songs of recent popularity to classic musical tunes, Aliso Niguel Theatre Company's Broadway Night was full of spectacular performances. 
Broadway Night was held on Friday February 4, in the theater and consisted of Aliso Niguel Theatre Company's performers putting on various acts to showcase their talent. 
These acts consisted of solos, duos, and pretty much any variety of performances that students wished to showcase to the audience.
Some remarkable solos included the classic "Anything Goes" performed by Natalie Mitchell, a rendition of "On My Own,"and "All Falls Down" sung by Erin Brennan. 
Duos that were performed ranged from a rendition of "Legally Blonde" performed by Riley Klosinski and Nick Breen, as well as the popular songs "Therapy" from new Netflix original "Tick Tick Boom". Furthermore,"The End of the Line," a recently trending song on social media platforms such as TikTok.
Other great numbers included "I've Decided to Marry You" with Skyler Connely, Shay Seymour, and Selma Alabassy, and the "Campfire Song" from Percy Jackson the musical.
Alongside musical numbers performed by students, previews to the Theatre Company's Actor's Repertory shows, in which students act, direct, and run shows by themselves. Both of the upcoming shows are in the format of plays, and their production of Clue, based on the classic board game, was introduced during a chase scene acted out with precision and made viewers eager to see the actual production during its show dates on February 24 and 26.
The other production teased was Kimberly Akimbo, another play about a teenager with a rare medical condition in which her body ages much faster than it should. The scene performed consisted of a family board game night, and some light-hearted dancing. But all that changed as  Kimberly fell to the ground for an unknown reason and an ambulance had to be called. Kimberly Akimbo's show dates consist of February 25 and 26. 
A final preview was shown for the company's upcoming Spring musical, "Something Rotten." The preview displayed a not fully completed rendition of the opening number,"Welcome to the Renaissance," setting up the characters and feelings of the show to get audience's excited for the show. "Something Rotten" will have show dates from April 21-23, and 28-30. 
One of the most thrilling moments of the night was the surprise number, in which Aliso Niguel Theatre Company's Booster Club performed a fun recreation of  "We're All in This Together" from High School Musical. This included Booster Club members playing the roles of Troy Bolton, Gabriella Montez, and Sharpay Evans, and put on the most energized performance of the night.
The new members of the company also came together to perform a newcomer number to "Let Your Freak Flag Fly" from Shrek. This lets some of the new members to the Company showcase their talents where they might not have been able to do earlier, and provides a welcoming experience for the new additions to the troupe.
To end off the night, the senior members of the theatre company performed an adjusted version of "Beautiful," from Heathers giving a humorous introduction to each of the seniors. The number continued by the seniors reminiscing on their last year of high school theatre throughout the song and ended with each of them revealing their majors or career ideals as they move onto the next chapter of their life beyond the realm of high school theatre.
Overall, Broadway Night was an excellent night full of excitement, fun, and most definitely, talent.  
Leave a Comment
About the Contributor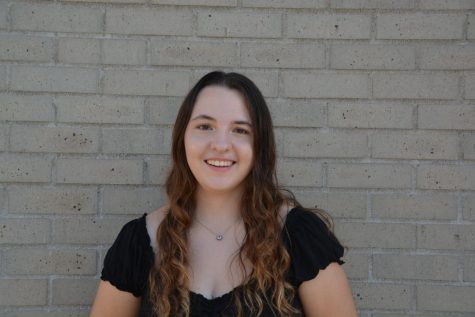 Asli Bilgin, Editor-in-Chief
Asli is a senior at Aliso Niguel, and this is her third year of newspaper. She is so excited to serve as this years Editor-in-Chief and apart from leading...