'Rust' Fatal Shooting
42-year-old cinematographer, Halyna Hutchins, was shot in the chest on Oct. 21, while rehearsing a gunfight scene in an upcoming movie, "Rust." The same gunshot injured 48-year-old director Joel Souza.  The fatal shooting happened in New Mexico and was fired by actor Alec Baldwin. 
The gun was given to Alec Baldwin by assistant director, Dave Halls. Halls, as an assistant director, was responsible for managing and coordinating everything that happens in the set of "Rust." There were three prop guns on a cart, Halls grabbed one of them, gave it to Baldwin and said "Cold gun!" This was a  cue to sigual that the gun was not armed, according to The Washington Post. The gun, however, was charged. According to The New York Times, there had already been two accidental charges on set before. 
Halls has been working as an assistant director for almost 25 years, working on movies such as, "The Matrix Reloaded" and "Fargo."  However, Halls has been accused on several occasions to ignore safety protocols in order to cut time and maintain the schedule. 
Maggie Golls, who is a prop maker and has worked with Halls on Hulu's "Into the Dark," commented on her experience with Halls. "[Halls] regularly failed to hold safety meetings and often didn't announce the presence of a firearm on set". 
Previously, Halls was fired from set "Freedom's Path" after one of the crew members was injured from a firearm that was accidentally discharged. 
On Nov. 3, Halls spoke up about the fatal shooting through his attorney. "Halyna Hutchins was not just one of the most talented people I've worked with, but also a friend. I'm shocked and saddened by her death. It's my hope that this tragedy prompts the industry to reevaluate its values and practices to ensure no one is harmed through the creative process again."
Although there have been no arrests or charges, the police have been conducting investigations for the case. Officer Mendoza, who is currently one of the officers running the investigations, said, "Baldwin is an active part of the investigation."
On Oct. 22, Baldwin tweeted about the shooting. "There are no words to convey my shock and sadness regarding the tragic accident that took the life of Halyna Hutchins, a wife, a mother, and deeply admired colleague of ours."
On Nov. 3, Baldwin spoke to the press in person for the first time since the fatal shooting. "[Hutchins] was my friend. The day I arrived in Santa Feto to start shooting, I took her to dinner with Joel, the director. We were a very, very well-oiled crew shooting a film together, and then this horrible event happened."
Leave a Comment
About the Contributor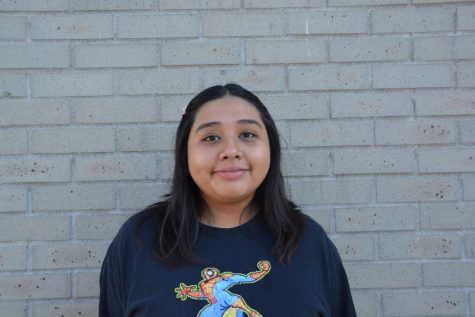 Jaylenne Pliego, Photographer
Jaylenne is a senior in high school, and likes listening to music and editing. She also enjoys writing articles.