CUSD College Fair Comes Back Virtual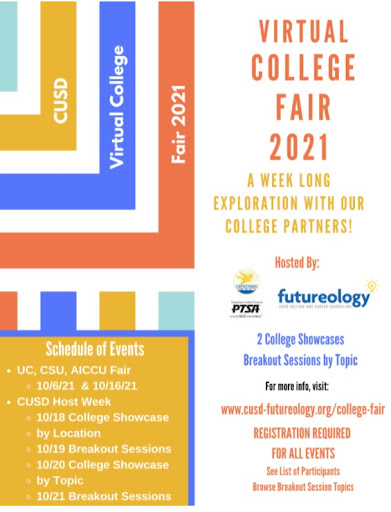 The annual Capistrano Unified School District (CUSD) college fair will be a week-long event held online during the week of Oct. 18 to Oct. 21. In order to participate in the college fair, students must register for the sessions they wish to attend, which they can do via the event's webpage, at https://www.cusd-futureology.org/college-fair. 
  The College Fair is very beneficial for students to attend as it is a great way to research many colleges quickly and gain information about the college process. Ms. Nguyen, the college and career counselor, says that one of the major benefits of attending is that "Students will hear from different college representatives and can keep their contact information to reach out to them in the future if they're interested in applying."
  The full calendar can be found on that website as well. Sessions each day start at 4:00, and last about 45 minutes each, allowing about 15 minutes before the next session starts. At the end of every session will be a chance for students to ask the college representatives questions about the school or process. If viewers are unable to attend at the time of the session, there will be recordings available to watch afterwards. 
  Monday, Oct. 18 will be the regional showcase, which will allow students to "learn about different colleges and universities from all over the country based on region," according to the schedule. If students wish to attend two sessions that occur at the same time, they should register for both in order to ensure they get the links to both afterward, and they can watch back the recordings of the classes they missed. 
  Tuesday, Oct. 19 will be breakout sessions with each class being on a different topic. The 4:00 session is called, "What's up with WUE?" which is about out-of-state discounts that California students can get from colleges in the West. From 5:00 – 5:45pm is an important session for student-athletes to attend, as it goes into detail about "the ins and outs of college athletic recruiting and NCAA requirements," according to the session description. The last class of the night, called "Testing in a Test-Optional Landscape," goes from 6:00 – 6:45 and will feature experts from Revolution Prep to help students understand the current policies surrounding testing. At the same time, from 6:00 – 7:30, will be the CSU and UC Showcase, in which California state schools will be presenting information about their schools and answering questions from students.
Oct. 20 will be program showcases, meant to allow students to learn more about, "different colleges and universities with a highlight on specific programs." Featured programs are business, art & design, and nursing/healthcare related programs. Also on Wednesday are sessions about community college, private schools in California, and international schools.
Thursday, Oct. 21, is the final day of the college fair, and features more breakout sessions for specific topics. At 4:00, a session on financial aid will be available in both English and Spanish, which will provide more information on financial aid from an expert from Saddleback College. Students can learn about what is involved in a college admissions decision from experts at multiple colleges and universities in the "College Admissions Mini Case Study" session at 6:00. 
Also at 6:00 is a class "dedicated to resources for undocumented students" that aims to be a safe space and help these students and families. The final class of the event is at 7:00, all about the world of STEM and the opportunities it provides for students.
It is recommended that students should attend, especially juniors and seniors so that they have a better understanding of the college process. By attending, juniors can begin to create their college list and have an idea of what they might want to do, which will make them more prepared for applying to college in their senior years. The College Fair is very beneficial to seniors as it will answer any questions they may have about college, and allow them to feel confident in their list and applications.
Leave a Comment
About the Contributor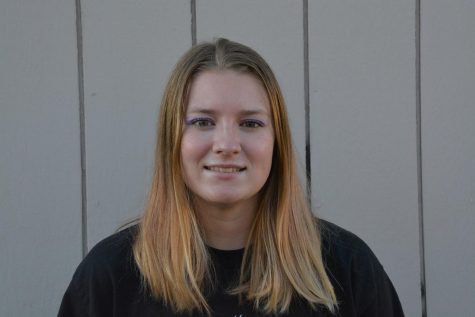 Allison McCutchen, Staff Writer
Allison is a senior at Aliso Niguel High School and this is her second year in the newspaper. She enjoys playing softball with her team, and loves to read...