New Field and Other Stadium Updates
  Over the summer, a brand new football field was installed in the Aliso Niguel High School stadium. There have also been repairs made to the track, as well as updates to the entrance of the stadium.
  Mr. Mashburn, the school's athletic director, explained how "the district has a timetable for turf renewal for each of the six high schools. Our turf was 15 years old and ready for an upgrade, and the school graciously provided us [with] a new state-of-the-art complex."
  Turf fields that are used frequently typically need to be replaced every eight to ten years in order to ensure maximum performance and safety for athletes. This was one of the main reasons for the update.
   According to the constitution department for CUSD, the field cost around 1.8 million dollars in total for materials and installation. The district took care of all the expenses for the project.
  The installation of the new field began two weeks after graduation and finished in late July. The other projects going on in the stadium are currently still in progress but are close to completion.
  Portions of the track have been replaced as well to help with safety and appearance. The entirety of the new track has been installed and the new portions are being painted on Aug. 27 so that it will be ready for use in the coming week. 
  There is also concrete work going on at the entrance to the stadium. Mr. Mashburn said that "Due to a new facility request, they also had to update the concrete work to the entrance of the stadium to be in compliance [with] state regulations."
  He is hoping that all of the concrete work will be completed by the first home football game on Friday, Sept. 3. This new entrance will not only look nicer but has new stairs and ramps for accessibility. 
  Mr. Mashburn also mentioned that a brand new PA system will be installed in the coming weeks. He believes this new system "will be the icing on the cake for the best stadium experience in Southern Orange County."
  Mr. Mashburn is excited about the new field, noting that "it is amazing and looks so nice. More than that though, it is safer for our athletes using it." 
Leave a Comment
About the Contributor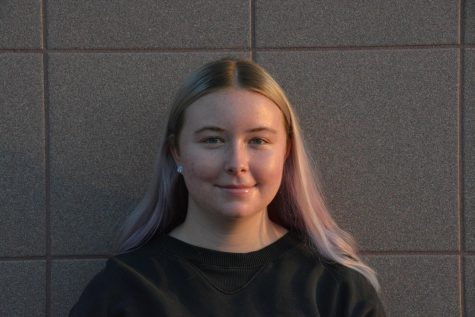 Jessie Blattner, Layout Editor
Jessie is a senior at Aliso Niguel who is looking forward to her last year writing for the Growling Wolverine. She loves playing with her dog and making...