Elon Musk Has Surpassed Jeff Bezos in Becoming the World's Richest Man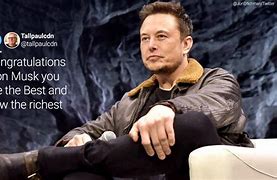 Elon Musk, the CEO of Tesla and space mogul, has had a massive accumulation of wealth during the Coronavirus pandemic, reaching a new net worth of $185 billion. He officially  surpassed Jeff Bezos for richest man in the world, on Thursday, Jan. 7 after an early-morning stock rally.
  Tesla saw a nearly eight percent stock rally on Thursday, which severely outpaced Amazon's own stock gains that day. Before this increase, Musk had a net worth of $181 billion, which was $3 billion behind that of Bezos. 
  After finding out about his new title, Musk tweeted "How strange" and added "Well, back to work…".   
  The accumulation of wealth that Musk and Tesla garnered are extraordinary considering the harsh nature of the Coronavirus pandemic on the economy. Many people have lost their jobs and faced unemployment as a result of the pandemic.    
  Musk has been criticized for maintaining operations in Tesla facilities as the virus continued to ravage the world. Cases were even reported inside of Tesla facilities as a result of Musk's repeated attempts to have workers on the line during the height of the pandemic, defying county orders.
  This exponential success and growth has been admirable considering the rough patches Tesla and Musk have faced in the past. 18 months ago, Tesla's stock seemingly bottomed out as a result of legal and regulatory fears, on top of skepticism surrounding Musk's leadership capabilities. 
  This skepticism arose after Musk infamously tweeted "funding secured" in reference to transforming Tesla into a private company in 2018. 
  This controversy sparked regulatory battles and caused Musk's reputation as CEO to plunder. In 2019, Tesla faced demand concerns, losses, and a shortage of cash, on top of its stock dropping to a near-term low in June. But in 2020, things began to turn around for Musk and Tesla, as the stock rose steadily, and then exponentially, as the company effectively proved the viability and demand for electric vehicles.   
  On top of Tesla, the SpaceX launch in May was overseen by Musk. It was a successful trip and a landmark achievement for the company, as it demonstrated the ability to deploy and reuse rockets. This signified the possibility of a new era of space travel, and Musk's ultimate goal of flying human beings to Mars.  
  Musk has also had a hand in developing PayPal, establishing his wealth early on, as he took in $165 million in its sale to eBay. He also invested in Tesla in 2004 and was consequently named chairman of the company during the same year. He became CEO of Tesla in 2008, which is a title he still has to this day.
  According to The Washington Post, Musk's wealth summed up to $37 billion in 2020, meaning that at least $148 billion more has been added to his wealth over the course of a year.