Christmas Treats to Enjoy during the Holiday Season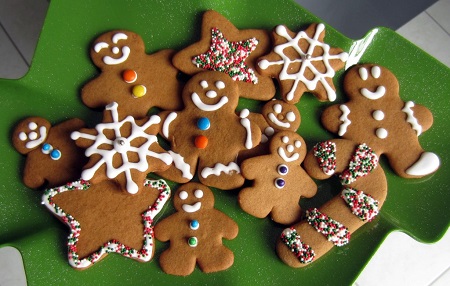 Help bring in the holiday spirit with your favorite Christmas treats to enjoy throughout and after the season! These popular treats will be sure to satisfy your craving. 
  The most popular choice by far this season is hot chocolate. Hot chocolate is a classic that stays superior throughout the ranking of christmas time desserts.
  "You simply can't go wrong with hot chocolate", student Trevor Lewis says. 
  The constant addition of new flavors to try out such as white chocolate, salted caramel, and pumpkin spice would make almost everyone want to whip out a mug, and cozy up by the fireplace to watch your favorite holiday movie. The warm drink is perfect for when the  cold weather and rain that supposedly comes with the winter season finally arrives. Pro tip: mini marshmallows on top is a must!
  Sweet Tart candy canes are a unique, but refreshing addition to the list. Candy canes have always been conventional and basic, but student Natalie Poe prefers the Sweet Tart candy canes for their unminty and sweet flavor. Some other unconventional candy cane flavors that are well liked by students this year include fruit loops, coffee, and Starburts. 
  Another popular treat this year are holiday themed Rice Krispie treats. These treats are an all around perfect idea for celebrating the season. There are an unlimited amount of ways to decorate, spice up, and individualize them. Rice Krispie treats are an easy treat to make and have proven to be a favorite among the student body. How can you say no to the gooey deliciousness that are Rice Krispie treats?
  An underrated classic are Hershey's Kiss cookies. These are absolutely wonderful, easy to prepare, and a treat that everyone loves. Though sometimes considered plain, Hershey's Kiss cookies are undeniably a staple in Christmas celebrations. Not only that, but last I checked, Costco is currently selling official Hershey's kits to make the process even more easier and convenient. 
  Gingerbread may be an unpopular choice, but frankly it is one of my personal favorites. It's flavor that is full of spice, just in a lack of better words, hits differently. Just don't eat too many because it can give you a pretty severe stomach ache. But caution warning, please, please, please, do not eat the gingerbread from the gingerbread house kits, you'll most definitely regret it. Trust me, I know from experience. 
  These Christmas treats provide all the ideas you could ever need to bring on the Christmas Spirit, so be free to fulfill the hunger you must have amassed by reading through all the best holiday treats you could ever imagine!