So Long, Farewell
After four years of high school, I've only ever truly had one normal year. My freshman year came to a screeching halt due to the pandemic. My sophomore year was in limbo, as I was caught between virtual and in-person learning. Junior year marked the return to school, and the end of mask requirements almost two years after everything had begun. And then just like that, it was senior year, the first and only real year of high school I'll have. 
  While my high school experience wasn't anything like the movies I grew up watching, I'm thankful for all Aliso Niguel allowed me to pursue. Like most Freshmen, I was completely overwhelmed going from a school of 700 to one of 2,700. I felt like I couldn't grasp the environment around me, and it really took until second semester to find my place here.
  Over my high school career, I can safely say I've found a home in theatre. Having started as a member of the crew, to becoming the programs Managing Director, this program has been absolutely life changing. It provided me a safe space on campus, and introduced me to some of the most important people in my life. During my time here, I've been a part of ten shows, and have stage managed six of those shows. While I always planned on majoring in film production in college, theatre showed me another passion I have, and skills I've from stage management will definitely be something I take into my future careers. 
    Newspaper was another place I felt home in. The environment in the morning provided me time to learn about all types of news, and to become more connected to the school. We were free to share our opinions, and have a voice in the class, which then transferred into the paper. Newspaper taught me how to be a better writer, but also how to become more compassionate and understanding. 
    Thank you to all the teachers that made my time here so special. Thank you to Ms. Torres, who's had to put up with me for three years. You made me an incredible writer, and also made your classroom a safe space. Thank you to Mrs. McClellan for all the time you spent listening to me talk about theatre, and for making your class a bright spot in my sophomore year. Thank you to Mrs. Newkirk, Mr. Schniepp, and Mrs. Rose for making my last academic classes of my high school career the three best APs I've taken. Thank you to Mrs. Alvarez who was always there to lend a helping hand, and always took the time to listen to her students. And thank you to Mr. Golden, for seeing my potential and being a mentor, and being incredibly supportive of my future art career endeavors.  
  Overall, my time at Aliso truly shaped me to who I am today. From attending zoom classes  and performing shows in masks, to Friday night football games and high school dances, I wouldn't change my experience for the world.
Leave a Comment
About the Writer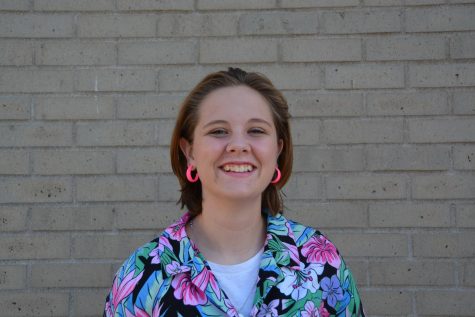 Isabel Cravens, Copy Editor
Isabel is currently a senior at Aliso Niguel. This is her third year in newspaper, and she is very excited to write again for the Growling Wolverine. She...