Well Wishes From Aiden
These past four years at Aliso Niguel High School have taught me so much. From being a freshman who drowned in the hallways trying to make my way to class, a sophomore stuck at home sitting in front of a computer every day with nowhere to go, a junior who finally began paving their own path, to a senior looking back on it all, I would say that, even though there are many things I would have changed about this journey if I could have, I stand satisfied and fulfilled here near the end of a beginning. 
One of the most prominent things throughout high school was the orchestra I was a part of. As a freshman, it was a casual lifeline that offered connections to acquaintances and lasting friendships. The music and atmosphere was something I truly came to enjoy, the ability to personally improve on an instrument while always working with other people as an ensemble. It was here that being a newcomer to ANHS slowly became a less daunting reality. 
Of course, the collective story of the class of 2023 would be incomplete without the misfortune that befell sophomore year. With a pandemic running rampant, much of our class was confined to their homes. There was a time that I happened not to step foot outside for two consecutive months. When the fulfilling social interaction was taken from the class environments, the drive to put in effort dwindled for many. Looking back, with every single day feeling as if exactly the same as the previous day, the entire year expired as if it were one very long, lackluster day. 
The upper class years promised something greater, however. At the same time as feverishly preparing for college applications, I found my place with friends, in the classroom, and on long, late-night drives. There were concerts to perform, clubs to join, and time to relax. The theater shows and musicals put on by our theater team were the highlight of my memories; Something Rotten, The Passage, and Fiddler on the Roof were exceptional performances that I am glad to have had the privilege to experience.
As the class of 2023 prepares to leave ANHS behind, we remember that we move onwards with the ups and downs that inspired growth in us as students, as people. Though I and many others part from our friends and peers, I believe that, later on down the road, some of our paths will cross again. For myself, expecting to build my future at UCI, I leave ANHS thankful for the people I came to know – one of the things I would never choose to change about my time here.
Leave a Comment
About the Writer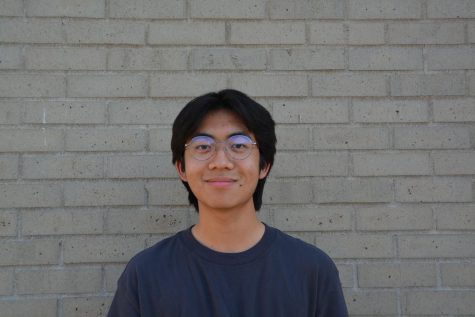 Aidan Lee, Copy Editor/Comic Illustrator
Aidan is a senior at Aliso Niguel High School. While it is his first year joining the Growling Wolverine Newspaper, Aidan is excited to bring his writing...