Asian Awareness Month
Every year in the month of May, appreciation is spread toward those of the Asian race in honor of their presence in the United States. 
The proper name for this event is called Asian American and Pacific Islander Heritage 
Month. 
May was chosen as the month to celebrate Asian heritage to commemorate the immigration of the first Japanese people to the United States. The immigration took place on May 7, 1843. It was also chosen to celebrate the anniversary of the completion of the transcontinental railroad, which was completed on May 10, 1869. Most work done to build the railroad was conducted by Chinese immigrants. 
Asian awareness month recognizes the historical contributions asians have given to the United State in terms of history, culture, and achievements. Asian countries that are typically honored during this month are Japan, Korea, China, The Philippines, Singapore, Samoa, Thailand, etc. Countries in South Asia like India, Pakistan, Sri Lanka, and Bangladesh do as well. 
During this month, people typically celebrate through cultural festivals, government activities, and educational events for people to learn about Asian heritage.
Virtual sessions are being organized under the foundation of Unexpected Virtual Tours to create a learning environment for those who want to find fun and interactive ways to celebrate AAPI. As written on their website, they plan activities like tea tasting, virtual museum visits, reading and listening to podcasts from AAPI podcasts and creators, attending local festivals or markets, and working with AAPI-owned businesses. 
The virtual field trip plans to teach and celebrate AAPI history from the 1800s to the present. Students will most likely be placed into groups and the teams will learn about significant leaders like Fred Korematsu and Bhagat Singh Thind. The virtual field trip will consist of visiting San Francisco's Chinatown and will learn how much of a significant impact Asian Americans have had on American culture. 
San Francisco's Chinatown is a great place to learn about Asian culture as it is known for having a mural that depicts 12 AAPI community leaders.
This piece of work was brought forth by the Chinese Culture Center in San Francisco's Chinatown. It had been partnered with Wells Fargo which was able to create the mural. The mural is located on the corner of Jackson Street and Grande Avenue.  
This work has taken a year, and Chinese Cultural Center Executive Director Jenny Leung was proud to present this marvelously inspiring piece.
"We reached out to youth in the community to have it be a youth-nominated process. So that we could highlight stories that haven't been recognized, shared, or told. Stories our youth haven't heard about" Leung stated.
Many people submitted their work to this project and about five thousand students were able to make the cut. But it was the community panelist who decided the final verdict of whose art would be represented.
Some examples of pieces that were chosen for representation were depictions of the I Hotel Manilatown Center and Reverend Norman Frog by Judy Young. 
Wells Fargo has been known as a long-standing supporter of the Asian community and it has shown through its selfless support of this project. The company was also the first in California to offer customer service in the Chinese language. 
Leave a Comment
About the Contributor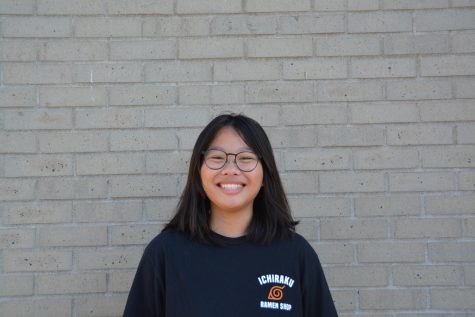 Kaila Kelly, Staff Writer
Kaila is a Junior at Aliso Niguel Highschool that is ready to take on challenges and get ready for this year's Growling Wolverine. Kaila is optimistic...