What's In? Prom 2023 Fashion Trends
When looking back on your adolescence, nothing embodies high school culture as well as prom. Every year, students put the stress of finals, AP testing, and for some, graduation, aside for the event of a lifetime. 
As expected, students everywhere have stepped up their game for the prom fashion trends of 2023. 
In the media, there has been a recent divide over two clashing styles: "New Prom vs Old Prom." The debate stems from a subshift in style to wearing less formal and more casual prom dresses. Girls going for this look are seen wearing dresses more suited for college and sorority formals, or even bridesmaid-style dresses, rather than the stereotypical gowns associated with prom.
Continuing the break from the status quo, another big trend has been lace and tulle dresses. Dresses with lace or embroidered bodices with flowy tulle skirts are all the rave right now. Corset-like bodices with mesh panels are another sort of "sister style" to the lace look that has sprung up this year. Off-the-shoulder tulle sleeves have been seen way more than usual as well. 
All of these little details and design features are most often paired with pastel colors that embody the fairytale look that has gained popularity. The top colors among girls going for this look are soft blues, pinks, and greens.
Sticking with the more traditional prom style that has survived through the years, the classic mermaid outfit with lots of sequins and sparkles is still adored in the year 2023. Sequin pattern dresses with intricate detail are a popular choice among girls who hope to stand out from the crowd.
To embody a more "pageant-prom" look, a lot of girls have also kept with the thick one-shoulder strap. The style is classy yet fun and offers change from the common spaghetti strap top. 
Sahba Maleki (12) shares her experiences with prom dress shopping this year.
"I saw lots of sequins, leg slits, lower cuts, and lots of darker colors like dark red and blue."
This year, in addition to some of the pops of bright pink and orange…darker reds, greens, and blues have taken center stage. When not found with beaded or sequin style, a lot of darker colors are done with a stain material.
  Cailynn Lepe (11)  shares how she thinks a trend will be, "sparkly dresses, whether it's sparkles or sequins. Also ruffles that go down the middle of the legs."
Ruffles or fringe layers in the skirt are other themes that have popped up for this year's prom. This style is perfect if you are looking for something unique that will stand out.
Regarding men's fashion, styles have generally kept pace with the usual trends. 
Boys who are going for a more fashionable look might leave their collars open and a few buttons undone. There's no way to go wrong with wearing black on black: a black suit with a black tie and dress shirt. Yet, a different way to class up the look would be to opt for a suit color besides traditional black such as navy blue, maroon, or white. 
For those looking for an even more niche style, the "Cowboy Prom" look can be achieved with a white jacket, cowboy boots, and a unique belt buckle. If you want to add a special touch on top of that, a bolo tie is a fun addition to the Western theme.
Regardless of what style you land on, the most important part is to wear what you love and make memories with those you love.
Leave a Comment
About the Contributor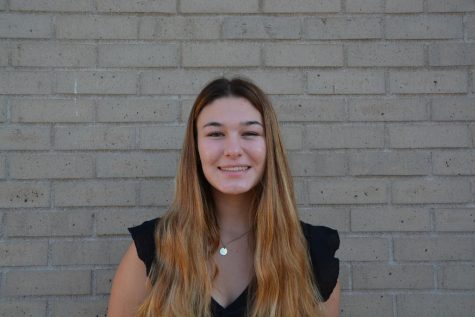 Jordan Gallo, Staff Writer
Jordan is a junior at Aliso Niguel and this is her second year on the Growling Wolverine staff. She enjoys creative writing and is excited to get out of...