Girls 22-23 V. Swim Season Update
Swim season is in session here at Aliso Niguel high and the high school's girls swim team is currently competing harder than ever before. 
The reason being that the girls had their first official swim meet on Mar. 14. This was quite the eventful meet for the ANHS wolverines, but nonetheless a victorious one.
During this meet the 28 girl swimmers earned themselves a grand total of 258 points while the Capo Valley swim team earned a smaller total of 196 points. 28 of Aliso Niguel's points came from their relays while 133 of those points were individually earned.
There were a total of eleven Girls Varsity events but there were specifically five thrilling events that stood out. The first event for the Varsity Girls Swim team was the 200 Y Medley Relay. Capo Valley's times were 1:58.05, 2:13.29, and 2:17.05 while Aliso Niguel's times were 1:8.99 and 2:13.83. In this event Capo Valley earned 8 points while Aliso Niguel earned 4 points.
  The next event was the Open Girls 200 Y Free (stroke). Swimming for ANHS was Melania Hale and Hana Moradi who swam final times of 2:41.60 and 2:57.86, earning a total of 10 points. Going up against them from Capo Valley were swimmers Sienna Puccini (w/ a time of 3:01.46) and Sally Shubin (w/ a time of 3:35.84) earning their school a total of 5 points.
Next up for the swimmers is the Varsity Girls 200 Y Free event. Representing Capo Valley was Kayla McCleave (2:12.20), Gabriella Jareno (2:16.11), and Sheila Sweet (2:23.69). They won their school 10 total points with their times. On the opposing side, representing Aliso Niguel, was Rachel Sleeth (2:13.94), Simel Flores (2.:20.39), and Sofia Zoccoli (2:27.95). They managed to win just 6 points for ANHS.
Following that is the Varsity Girls 200 Y IM. Swimming for ANHS was Maya Voss, Emily Sebastian, and Emily Lynch. In the same order, their times were 2:26.67, 2:41.72, and 2:42.17. They scored their school a total of 7 points. Meanwhile on the opposing team was Miya Klatt, Tara Ahwazi, and Jaden Klatt. Their times were 2:20.77, 2:29.48, and 2:34.67, which earned 8 total points.
After that was the Varsity Girls 50 Y Free event. Swimming for Aliso Niguel Devon Silberman (1:01.00), Madison Wood (1:04.00), and Melody Le (1:06.00) earned 8 points. However, competing against them and swimming for Capo Valley, Helena Kurtz (1:02.00), Ava Hashemi (1:03.00), and Sydney De Sena (1:05.00) earned their school 8 points as well.
In the end, this was an exciting and successful first meet for Aliso Niguel High. Overall, all of the swimmers (including the boys and the girls, the JV swimmers and the varsity swimmers) performed really well for the starting swing of the season. 
Leave a Comment
About the Contributor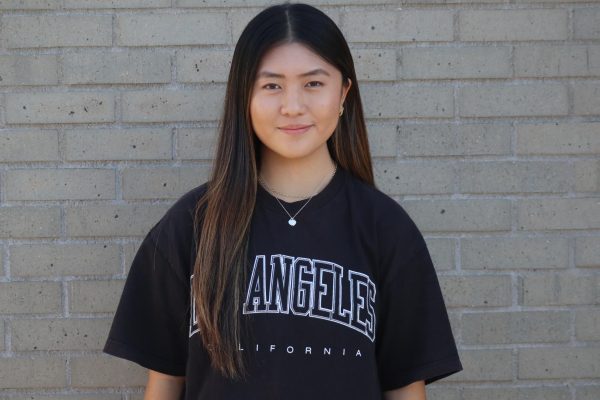 Victoria Baek, Layout Editor & Photographer
Victoria is currently a junior and this is her second year on the newspaper staff. She is also the president of Kindness Krew at ANHS and enjoys reading...