Leonardo Dicaprio's New Girlfriend
Shortly after breaking up with his girlfriend, Camila Morrone, , rumors have rapidly spread that the well-known Titanic actor Leonardo Dicaprio had recently gotten together with 19-year-old Eden Polani.
A photo of 48-year-old Dicaprio and professional Jewish Israeli fashion model Eden Polani display the two seated together, shoulder-to-shoulder, from singer Ebony Riley's release party for her new EP in Los Angeles in January 2023. Dicaprio had been called out by Canadian comedian Katherine Ryan for going after someone even younger than his now 25-year-old ex-girlfriend. Neither Dicaprio nor Polani have confirmed their relationship with each other, however, social media has gone wild since the photo had been leaked at the beginning February.
Tik tok user @notannareportsnews speaks about her opinion on the current Leonardo Dicaprio controversy: "It's gross. Honestly, it's no surprise because Leonardo Dicaprio has been pictured with many women who are very young. The thing is that he keeps getting older and his girlfriends keep getting younger."
With Dicaprio and Polani being 29 years apart, several people had been comparing their age gap with Millie Bobby Brown and David Harbour who play as Eleven and Jim Hopper in Stranger Things, as well as Olivia Colman and Kit Connor, who play as Sarah Nelson and Nick Nelson in the series Heartstopper. Even though there are those who are indifferent towards age gaps, people have begun to change their minds, especially since Polani is barely past the minor stage.
According to Buzzfeed News, many people have suspected Dicaprio's dating pattern: he has not dated anybody older than the age of 25, which is fairly difficult for former Leonardo Dicaprio fans to consider his possible relationship with Polani legal. Moreover, his longer-term relationships end before or just after his partner's 25th birthday. For example, Dicaprio's most recent ex-girlfriend, Camila Morrone, initially began dating him when she was 18-years old and ended their five-year long relationship when she reached 25, in addition to the oldest woman that Leonardo Dicaprio has been associated with is Gigi Hadid, who is currently 27 years old.
American Youtube Star, Jake Triplett, criticizes Dicaprio saying, "Leo, you can't bring a girl [to the Grammys] who within the last year went to prom."
After hearing the news of this scandal, film actress Mischa Barton decided to bring up her experience with Dicaprio. As stated by Daily Mail, she was told to sleep with Dicaprio when she was 19 and he was 30 right after Dicaprio had broken up with Brazilian fashion model Gisele Bundchen. Almost immediately, Barton mentions how he is "30 or something."
Many sources have denied Dicaprio's possible relationship with Polani, however, others have noticed that she seems quite aware of the profound attention she has been receiving. Even more, her suspicious behavior had people pointing out how even the Titanic movie starring Leonardo Dicaprio himself is older than the young model.
"Leonardo Dicaprio's girlfriend is so young her high school experience was interrupted by COVID-19" points out a Tiktoker in one of their Tik Toks.
Leave a Comment
About the Contributor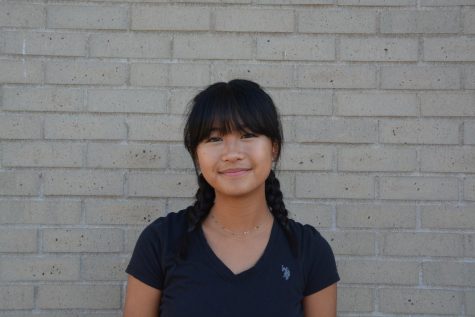 Mae Villamil, Staff Writer
Mae is a high school sophomore and this is her first year in newspaper. Mae practices color guard and spends time with her friends and family. She enjoys...