DA Wins Competition
Aliso Niguel High School's Dance Appreciation team recently won two first-place awards in a district-wide competition at Arlington High School. The awards were given to the small coed and medium female hip-hop divisions, and marked the first awards for many of the team's beginner freshmen. 
Dance Appreciation won these awards out of ten different schools on Feb. 11, with the divisions of large coed, small coed, and medium female hip-hop groups competing. While the large coed division did not win, the team's advisor, Mrs. Murphy, believes it was their "best performance yet."
The medium hip-hop division won first place out of five teams in their category, a triumphant win for everyone involved in DA at ANHS.
The DA team, composed of over half freshmen, trained all year to perform as well as possible for these competitions, with each performance improving more and more awaiting the competitions in the winter and spring. The team's hard work and dedication paid off yet again, earning them these two awards.
Competitions are assuredly tough, and according to the DA coach Ms. Jasmine, "the day is long and it's a battle for everyone's mental and physical stamina." However, ultimately "competitions are always the team members' favorite memories because of the positivity they give each other and the pride they have to compete with DA."
One of the freshman teammates, Nicole Aguirre, answered questions regarding the competition. When asked if it was tough to compete at the event, she replied, "we practiced and put in a lot of work beforehand, so by the time of the competition I think we were ready."
When asked her favorite part of the competition, she replied, "I really enjoyed seeing other high school teams dance and bonding with my teammates."
And finally, when asked for her opinion about the team winning two awards, she responded that she was "very proud, but a little shocked as well."
Nicole's sentiments are shared by the rest of her team. While new to the sport, many freshman members show serious promise, resulting in their wins in this competition. This most recent competition shows just how strong Aliso's DA team is at coordinating and demonstrating good teamwork.
They have an upcoming competition the weekend of Feb. 25 and 26 where they will face even more competition. 
Leave a Comment
About the Contributor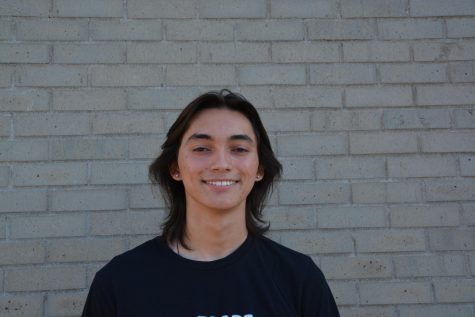 Everett Mattinson, Staff Writer
Everett is a Senior at Aliso Niguel who is starting his first year at the Growling Wolverine Newspaper. He enjoys writing and taking photos, and is looking...