Fentanyl Lab in Houston
On Monday, Jan. 30, authorities busted a suspected fentanyl lab in Houston, Texas, which was disguised as a car rental; they arrested four men on an array of charges. Law enforcement believes the lab is linked to Mexican cartels attempting to expand their reach into the United States. 
The Texas Department of Public Safety stormed the building on Sussex Lane on Jan. 30, locating pill press machines, more than 17 pounds of possible fentanyl precursors from China, over 1 kilogram of suspected counterfeit Xanax pills laced with fentanyl, and 0.3 pounds of fentanyl-laced Oxycodone. Additionally, they found cocaine, ecstasy, methamphetamine pills, a stolen vehicle, three pistols, and a rifle.
The "business" is called Speedy Slingshot Rentals. Founded last year, it advertises as Houston's premier slingshot and exotic vehicle rental experience. According to their website, the rentals start at $300 a day.
The United States has been dealing with an opioid crisis for years, much of which is due to fentanyl. Officials have said that of the 108,000 overdose deaths in 2021, more than 80,000 were linked to opioids like fentanyl. According to the Texas Department of State Health Services, 97% of accidental opioid deaths in the state last year involved fentanyl.
That's up from 69% in 2018.
Fentanyl is primarily made in Mexico using Chinese precursors and smuggled across the land border. It is the supplemental drug of choice for smugglers and dealers because the illegal synthetic opioid is cheaper than heroin and nearly 50 times as potent. Fentanyl is deadly in tiny doses and is often cut into other drugs, so people don't know that the drugs they are taking contain it. This case is an example of how drug cartels in Mexico seek to expand drug distribution throughout the state of Texas and the U.S. by moving production to U.S. soil.
Fentanyl seizures have soared at ports of entry within the last few years, which officials cite as a success due to the drug being apprehended rather than allowed into the U.S. More than 14,000 pounds were seized at the southern border in 2022 after more than 10,000 in 2021. But it has raised concerns from Republicans about how much is getting past officials at the border both at and between the ports. 
President Biden mentioned the fentanyl crisis at the border in his State of the Union address on Tuesday, Feb. 7. After introducing a New Hampshire father whose 20-year-old daughter died eight years ago from a fentanyl overdose, Biden laid out a grim statistic: "Fentanyl is killing more than 70,000 Americans a year."
Law enforcement arrested four suspects on a lineup of offenses including felony evading in a motor vehicle and the manufacturing and distribution of fentanyl; all four are out on bail as of Wednesday, Feb. 1. More charges are likely coming as investigators look into what they believe could be a complex, far-reaching drug-making operation. Neighbors say undercover officers had been staking out the place for days.
Leave a Comment
About the Contributor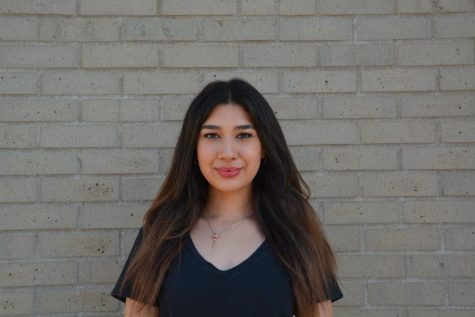 Yasmin Marouf, Staff Writer
Yasmin is currently a junior at Aliso Niguel High School, and she's thrilled to be a part of The Growling Wolverine newspaper for the first time! She...