Orchestra Performs at Soka
The Aliso Niguel Orchestra performed at Soka University's Performing Arts Center on Friday, Feb. 10 at 7 p.m. This two hour concert featured solo, duet, group, and ensemble performances. Elisha Park (12) and Tammi Lee (11) were the concert co-hosts. 
The concert opened with a group performance of "Studio Ghibli: A Town With an Ocean View." This song was performed by Alan Tran (12), Ohm Rajpal (12), Jeffrey Yang (12), Sanay Parikh (12), and Dylan Anuskiewicz (12). 
Other group performances included "The Crown of Roses" performed by Catalina Elguera (12), Leanne Raddiedine (12), and Ellie Nguyen (12); "Czardas" performed by Faris Radieddine (10), Logan Nguyen (10), and Vikram Venkateswaran (10); "Studio Ghibli Medley" performed by Gianna Besmonte (12), Chelsea Jiang (12), and Alicia Clasquin (12); and "Double Violin Concerto" performed by Alan Tran, Jeffrey Yang, Aiden Sim (12), Altan Bilgen (12), Sanay Parkikh, and John Kim (12). 
"We chose this song because of its beautiful title and we were excited to coordinate our outfits with it," Catalina Elguera stated. The trio wore red and black dresses with flower designs to match the theme of "The Crown of Roses." 
There were also duet performances by Orchestra students. A notable duet was between Elisha Park and her mother, playing the piece "The Swan." 
"I was planning on performing this piece in my freshman year but wasn't able to until this year now that we came back from COVID. This is a full-circle for me and I'm also performing with my mom playing the piano accompaniment part," Elisha Park expressed before playing. 
Other duets included "Hungarian Dance" performed by Daphne Karr (9) and Emily Salisbury (9); "Festival March" performed by Ayan Gursahani (10) and Li Keller (12); "Piano Concerto No. 2 in C Minor Op.18: Adagio Sostenuto" performed by Seungyoung Oh (12) and Elisha Park. 
Solo performances took up a large part of the concert as well, with numerous talents displayed on both string instruments and the piano.
String instrument soloists included Gianna Besmonte with "Scherzo- Tarantella," Jolin Cheng (12) with "Butterfly Lovers," Seth Martin (9) with "Humoresque," and Saoirse Murray (9) with "Meditation."  
Pianists consisted of Helen Yeong (11) with "Sonata No. 8 in C Minor, Op. 13 'Pathétique,'" Safina Khan (12) with "Nocturne Op. 27 No. 2 in D Flat Major," and Anika Chandran (10) with "The Promise of Spring." 
The Soka Concert ended with ensemble performances with the String and Chamber Orchestra. The String Orchestra performed "A-Flat" with a violin soloist, Madelynne Tetley (9). 
 The Chamber Orchestra performed two pieces. The first piece was "For Good" from the broadway musical, Wicked. This performance also included sophomore vocalists Josie Cook and Sophie Lowry that sang the lyrics as the orchestra played. 
The second piece was "La La Land" which was a medley consisting of all songs from the movie such as "City of Stars" and "Another Day of Sun." Jolin Cheng (12) was the violin soloist, opening the song with the well-known, "Mia and Sebastian's Theme." Helen Yeong was the piano soloist. 
Not only were students and parents in attendance at this concert, many CUSD members were there as well: CUSD Board President Krista Castellanos, CUSD Trustee Judy Bullockus, CUSD Trustee Amy Hanacek, Principal Michael Hatcher, Aliso Viejo Councilmember Ross Chun, and Aliso Viejo Mayor Richard Hurt. 
"It's definitely an honor to be here, performing at such a beautiful performing arts center. I'm so lucky to do what I get to do and basically play music everyday with these amazing students. Everyday goes by so quickly and I really thank everyone for coming," Orchestra Director Mr. Chen stated at the end of the concert. 
The performance can be viewed on YouTube under Aliso Niguel High School Orchestra.
Leave a Comment
About the Contributor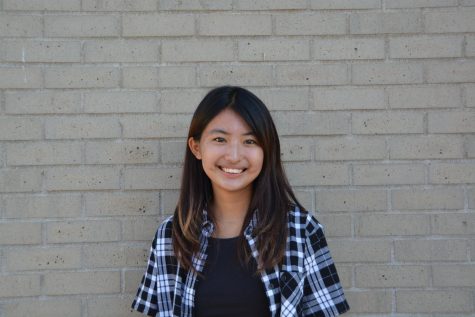 Kiara Azuma, Senior Editor
Kiara is a senior at Aliso Niguel High School and this is her third year writing for the Growling Wolverine. She is excited to be part of the school newspaper...