Super Bowl Half-Time Show
Every Super Bowl has a half-time show to entertain and attract and Pop Icon Rihanna delivers just that. She has been silent in the music industry for seven years making this what some people consider a "comeback." Celebrities who were shamelessly present solely for the headliner were Adele, H.E.R., Bretman rock, Billie Elish, and her long-time boyfriend A$AP Rocky.
Despite the game being centered around the Kansas City Chiefs and Philadelphia Eagles, Rihanna stole their attention when taking the spotlight in a stylish all-red jumpsuit designed by Jonathan Anderson and backed up by dancers in an all-white ensemble. 
She covered many of her famous and iconic songs such as, " B**ch Better Have My Money," "Where Have You Been," "Only Girl (In the World)," "We Found Love," "Rude Boy," "Work," "Wild Thoughts," "Pour it up," "All of the Lights," "Run This Town," "Umbrella," and "Diamonds."
Fans were thrilled to hear their favorite throwback songs being danced to choreography created by Parris Goebel, a woman who holds an impressive reputation and is no stranger to the pop industry. Artists she had previously worked with include Nicki Minaj for the music video "Swalla," Justin Beiber for "Sorry," Ariana grande for "Side to Side," and Jennifer Lopez for her 2020 Super Bowl half-time show. 
Many people expected her to have a surprise guest considering half-time shows don't usually stick to one singer like last year when Snoop Dog, Kendrick Lamar, Eminem, Dr. Dre, and Mary J. Blige, all performed. However, the stage remained hers alone where she took the opportunity to promote her makeup brand Fenty beauty, lifting a powder puff to her face before the microphone to sing "All of the Lights."  
As for the visual layout of the performance, production designer Bruce Rodger is credited for the creativity. According to him the elevated LED-Lit platforms that the performers were on were created for the purpose of protecting the grass so the players could continue to play with no complications. 
While the high-raised stage seemed risky in reality it could hold a "freight train." Regardless, pregnant women do tend to make people feel even more cautious around them, and as of Feb. 12, 2023, Rihanna has confirmed that she is expecting her second baby. 
This news came as a shock to many who had to check their screens twice to confirm the baby bump being outlined by her body-hugging jumpsuit. 
When asked about her thoughts on the whole thing Aundrea Florentino (10) says, "I thought it was cool how she announced her pregnancy and how the performers were so high-up,  it was a unique performance that seemed different from what other celebrities would have done."
Less than a year ago Rihanna gave birth to her first child and referred to him as an inspiration for her decision to perform. Prior to the big game, she was interviewed by Nadeska Alexis and said, "The Super Bowl is one of the biggest stages in the world. As scary as that was because I haven't been on stage in seven years, there's something exhilarating about the challenge of it all. It's important for me to do this, this year. It's important for representation, it's important for my son to see that."
Like any performance, the public will hold their mixed reviews, but it cannot be denied this performance was sensational. 
Leave a Comment
About the Contributor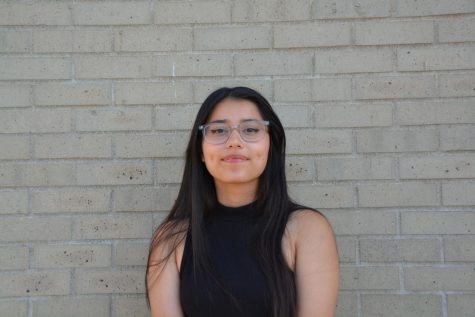 Lis Gonzalez, Copy Editor
Lis is a sophomore at Aliso Niguel. Speaking to people has never been her forte so she likes to write to them instead. She doesn't trust people who prefer...