Girls Soccer is Kicking Off
The season for Girl's Soccer is beginning to start now! Soccer is a beloved sport at Aliso Niguel High School. The students and wolverine families pack the den at the girls' soccer games. Each pass, goal scored, penalty kick made, whistle blown, and red flag thrown fills ANHS spectators with thrill and anticipation. Every win and loss is cherished.
Before we jump into the season, here is a recap of the 2021-22 season last year. In their pre-league games, the team won in every one! Not only that, the team managed to keep a complete shutout. This means that in every game they played, the opposing teams never scored once! They conquered the field as they played against  Northwood, Fountain Valley, Millikin, and Edison High School. 
In total, the Girls Soccer team lost four games out of eight games total. Out of the other games, they tied in two of them and won once in their league tournament.. The game that they won was a shutout against Trabuco Hills High School.
As the current season begins, this will mark Head Coach Dodge's 27th season. He has been coaching for both the boy and girls soccer teams since 1996 and carries the title of Director of Soccer at ANHS. 
Along the way, Coach Dodge has earned the title of LA Times HS Coach of the Year and the Student Sports Magazine National Coach of the Year in 2001 and 2012. Along with his individual accomplishments, the Girls Soccer team has also won themselves the title of 2-time CIF Girls Champions. They have also won eight consecutive league championships. 
Currently, the soccer players have been attending a 6th period soccer class in substitute for P.E. In the soccer class they run the mile and play scrimmages. Their first practice of the year is on Tuesday Nov. 15 from  4:30-6:00 p.m where they will officially start preparing for the season. 
Varsity player Alaina Villa (10) expresses that in this year's soccer season, that "as a team, I want to make CIF with a good winning record." This is a good goal for the team as it pushes them to go further, since they did not make CIF last year. 
She also says that, "I think we can improve by being more confident and bringing more energy to the team." She communicates that she believes mindset is their key factor to success and victory. If one can believe in themselves then they can do whatever they set their mind to! Mindset along with their efforts, hard work, and practices are what Alaina is counting on to succeed this year. This is her second year playing for the ANHS varsity team and she hopes to also grow and expand her skills, side by side with her team too. As the beloved Girls Soccer team works hard, fellow wolverines will be cheering for them in support.
Leave a Comment
About the Contributor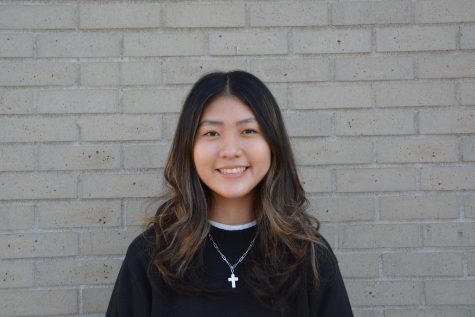 Victoria Baek, Photographer
Victoria is a sophomore at Aliso Niguel High School and this is her first year with The Growling Wolverine. She enjoys reading and quality time with her...