Midnights Review
Whether a Swiftie or not, the whole world alike can agree that Taylor Swift's tenth studio album, "Midnights,"  released on Oct. 21, has everyone amazed once again.
Taylor, by far one of the greatest singer/songwriters of the generation, has done it again with her latest album. Announcing TS10 on Aug. 28, Taylor wrote on social media that the album is "the stories of 13 sleepless nights scattered throughout [her] life." Taylor's originality as an artist is evident once again through the concept of the album: a collage of songs written throughout her career, a mosaic of different points in her life melded together in a cohesive record.
The new album came as a shock to fans as it's been almost an entire year since her last re-recorded album, Red (Taylor's Version). After two singles from her fifth album "1989," many fans expected her next project to be its re-recording. 
For those unfamiliar with "Taylor's Version," Taylor is on a journey of rerecording her first six studio albums after all of her rights to her songs were sold to Scooter Braun, manager of her old label, Big Machine Records. In order to be able to perform her own songs, she has vowed to rerecord the entire songbook she lost, under her new label, Republic Records, with the copyright and masters to her work. 
So far, Taylor has rereleased two of the six albums with additional "From the Vault" tracks not featured in the original recordings. Taking into consideration the two rerecorded records and her sister albums "Folklore" and "Evermore" of 2020, "Midnights" is Taylor's fifth album released in the past three years.
It was no surprise to her fans that Taylor took great pride in continuing her cryptic messages and easter eggs in the unveiling of the new album. Originally only listed as track 1-13, Taylor's lucky number, she slowly revealed the track titles with a game she called "Midnights Mayhem With Me." Every couple of days, Taylor would spin a bingo cage with balls 1-13 to announce the names of her songs.
The track list completed goes as follows: "Lavender Haze," "Maroon," "Anti-Hero," "Snow On The Beach (feat. Lana Del Rey)," "You're On Your Own, Kid," "Midnight Rain," "Question…?," "Vigilante Sh*t," "Bejeweled", "Labrinth," "Karma," "Sweet Nothing," and "Mastermind."
But of course, on her release day, Taylor had another surprise up her sleeve for the fans, a bonus track version of the album with seven more songs. Entitled "Midnights (3 am Edition)," because the bonus track dropped at 3 a.m., the new tracks include "The Great War," "Bigger Than The Whole Sky," "Paris," "High Infidelity," "Glitch," "Would've, Could've, Should've," and "Dear Reader."
Release week proved that the world hasn't given Swift the nickname "The music industry" for nothing; she broke several records with "Midnights," including some of her own. Taylor broke the record for most streamed act on Spotify within 24 hours, 228 million streams, beating the previous spot holder Drake. The album broke her own record for most Spotify streams in a week at 1.57 million streams, previously held by her 2014 album, "1989."
Additionally, she now holds the top spot, as well as two others, for biggest streaming week by a female artist in history. On the charts, she now holds the crown for the first artist in history with the entire top 10 on Billboard Hot 100.
Taylor broke the record for pure sales this decade at 1.14 million, surpassing Adele who previously held it at 692,000. These are just a few of the several impressive legacies left by the release of "Midnights."
Speaking on the album itself, Taylor has outdone herself once again with her songwriting and vocal genius. All of the songs, in their own unique sound, offer not only an insightful look into Taylor's own experiences, but bring up feelings that are universally relatable to her audience. 
In her lead single, "Anti-Hero," she plays with the concept of feeling like being the problem of her own life, although not entirely irredeemable, yet still "it must be exhausting always rooting for the Anti-Hero." Probably the most vulnerable song, Taylor reveals her insecurities, ones a lot of listeners can relate to, almost in a way of coming to terms with it all, even the unmoving parts of yourself.
As expected, she did not disappoint with her Reputation-Esque tracks, "Karma," "Vigilante Sh*t," and based on personal opinion, "Bejeweled" as well. 
Karma, unexpectedly contrasting its name is one of the most upbeat songs on the record and has one of the most impactful messages as well. During her Reputation Era, she vengefully promised, "all I think about is karma… maybe I got mine, but you'll all get yours." Yet, coming almost full circle, she wistfully contrasts this message through her lines "karma is my boyfriend … karma is a god … karma is a cat purring on my lap 'cause it loves me." Although she still taunts that karma will come for those who've wronged her, the overarching message is that karma is not the bad things that happen to you, but rather the good things that happen to me. 
Colette Bui (11) shares that her favorite song is Karma "because I think I can relate to it personally and I think her lyrics describe how I've felt at times in my own life."
Some of her more romantic songs hit her audience hard too, with the ability to recognize their deeper sentiments. "Snow On The Beach (feat. Lana Del Rey)" is an angelic piece that paints the realistic image of a surreal love, so unimaginable, like snow on the beach. The concept of being so enamored with someone and them wanting you back feels so impossible captures her unmatched talent of putting emotion into lyrics. She touches on this idea again in "Mastermind," confessing how it was never a series of accidents leading to her longtime love, but the result of her meticulous scheming that brought them together, a mastermind at work. 
But, by far, one of the most touching songs on the album is "Sweet Nothing." Co-written with Swift's longtime partner, Joe Alwyn, under the pseudonym William Bowery. The song describes a person who you can count on even when "the end is coming" and there's a short list of people you feel you can trust. When the demands of the world become too much, all they want from you is "sweet nothing." In a world with no privacy and constant deceit, to find someone who only wants you and nothing else is a most powerful declaration.
When asked her favorite song from the new album, Caiylnn Lepe (11) responded, "'Bigger Than They Whole Sky" because it reminds me of her older albums like nostalgia."
The excitement is far from over, seeing that Taylor dropped yet another news bomb, announcing her upcoming tour, Taylor Swift | The Eras Tour. The tour is a journey through Swift's many musical eras and features several popular artists including Paramore, Phoebe Bridgers, girl in red, Gracie Abrahams, and more. Tickets for the beginning leg of the tour in the U.S., starting in March 2023, go on sale on Nov. 15.
Leave a Comment
About the Contributor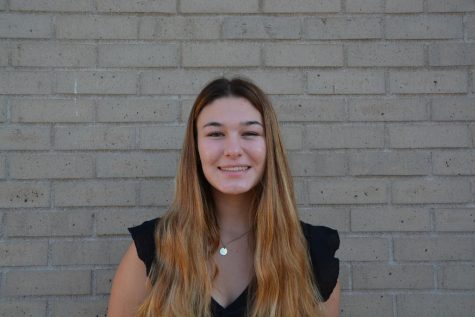 Jordan Gallo, Staff Writer
Jordan is a junior at Aliso Niguel and this is her second year on the Growling Wolverine staff. She enjoys creative writing and is excited to get out of...