How Does ANHS Dress For Fall?
As the seasons begin to change, the weather changes from hot to cold. As Aliso Niguel High School welcomes fall, students begin to switch out their fresh and cooling wardrobes for cozy and warm ones. 
"One way I transitioned into my fall wardrobe is by moving from bright summer colors to more dark colors," said Sonya Tarnovsky (11). 
A change of color theme to match the season is a common way to switch up for the new coming fall season. Especially as holidays such as Thanksgiving approach, it is common to imagine fall fashion to consist of warm, neutral colors rather than bright, refreshing colors. 
Instead of short sleeves and tank tops, students are beginning to seek warmth in long sleeves, jackets, and coats. 
"I also tend to wear pants and thin long sleeves more because of the weather. It gives me a nice change from usual summer outfits of short sleeves and shorts/skirts," shared Sonya once more.
A popular fashion technique that can be used in colder weather is layering. Through this technique, it is possible to stack clothing on top of one another to give depth to your outfit. Something as simple as layering a tank top over a solid color underlayer can add lines and uniqueness. It is a simple way to elevate your wardrobe and a sense of fashion; however, the most important reason is that layering can help you stay warm. 
"My favorite style is the baby tees with oversized jackets with oversized jeans or the stockings with mini skirts and sweaters!" said Melody Le (11).
What Melody explained here is a simple way of layering. By putting on an oversized jacket on something more fitting like baby tees, the outfit gains a variety of textures and patterns. Not only would she keep in style but will also successfully keep her warm.
The layers that you are wearing can act as insulators and keep warm air trapped inside. This is essential since the seasons are changing and it is easier to get colds and sickness due to the sudden change of weather. 
And of course, many also find the inspiration behind their outfits through many outlets. 
Reede Hendel (11) shared that she often finds her inspiration through Pinterest and says, "I think I also gravitate towards k-fashion and tend to like more comfortable stuff."
Another key component of great fall fashion outfits is comfortable clothing. It is important to stay cozy and warm to enjoy the optimal fall weather. In California, there tends to be frequent rain when it comes to the autumn season, also reminding the students to stay dry. 
On the other hand, Angelina Carsini (11) differentiates from Reede. Angelina shares that she often finds inspiration through TikTok; but, in many cases, she would come up with her own personalized style through her own imagination.
 No matter how you choose to style your next outfit or how to dress for the next day, the most important part is to be comfortable and confident in your own style and to be who you are. 
Leave a Comment
About the Contributor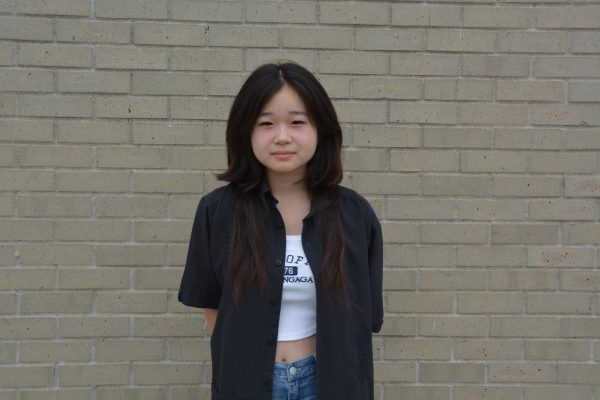 Cindy Yang, Photographer
Hello! My name is Cindy Yang, and I am a photographer and staff writer for the Howling Wolverine. I am a 12th grade returner and  I plan to become a communication...