Veteran's Day
On Friday Nov. 11, the United States will honor all military veterans of the United States. Veterans day is a federal holiday that falls on the anniversary of the end of World War I. 
Every year, numerous organizations offer discounts, deals, and free things to any veteran. Many popular restaurants such as Texas Roadhouse and Applbees offer veterans as well as active duty members free meals. Thousands of communities in the U.S. also host events such as parades and ceremonies on the special day.
  In Orange County, citizens looking to support their military had access to quite a few different parades and ceremonies. The closest ones to Aliso Niguel were in Dana Point and Laguna Beach, both about 25 minutes from school. In Dana Point, at the Strands Vista Park, members of the Dana Point community were welcomed to attend a memorial where updated plaques for any Armed Forces who passed away within the past year who had lived in Dana Point were unveiled. In Laguna Beach, at the popular Heisler Park, anyone was welcome to join together to honor all who have served for the Armed Forces.  
Here at Aliso Niguel, staff and students are proud to honor their veterans. Several students have veterans in their family. 
Eden Wallin (12) explains, "My great grandpa fought in World War II. I can't imagine how much bravery that must take and I'm forever grateful for all our military." 
Haley Schmul (12) says, "My grandpa Chuck was in Vietnam on an aircraft carrier and he would tell us stories about the war and how many of his friends died and never saw their families again. Our military sees violence at its worst during wartime. Learning of their sacrifice makes me proud to honor our vets." 
With the school day off too, students had the opportunity to honor United States warriors in their own personal ways. Whether it was through attending a memorial, or even just donating to the American Red Cross, citizens had and always have the opportunity to support the brave and courageous people that protect the nation. 
It is important to always remember the lives constantly lost and the lives that are being saved due to our brave soldiers. They sacrifice their lives, so the United States people can live a safe, free life. Not only on Veterans Day, but everyday it is important to remember this. 
Aliso Niguel's students were proud to honor their veterans this year.
Leave a Comment
About the Contributor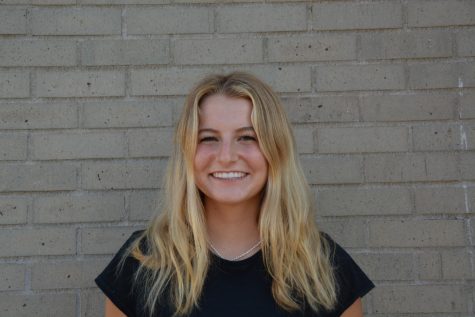 Grace Balducci, Staff Writer
Grace Balducci is a senior at Aliso Niguel. She enjoys reading, baking, and going to the beach with friends and family. She looks forward to getting to...