Iran Protests
On Sept. 16 2022, a 22-year-old Kurdish Iranian woman, Mahsa Amini, was detained by morality police for improperly wearing her hijab, and showing too much hair. She died in a hospital in Tehran, Iran, under suspicious circumstances, and police brutality, according to witnesses. Her unjust death was a catalyst for change, and sparked protests across the globe, demanding freedom from the strict Islamic regime forced upon Iranians. 
The Iranian Revolution, also called the Islamic Revolution, was a popular uprising in Iran in 1978 and 1979, mainly caused by the government's inability to satisfy the rising expectations of the Iranian people, especially following the sudden increase in oil prices. It resulted in the toppling of the monarchy and led to the establishment of an Islamic republic, founded by Ruhollah Khomeini, a theocratic dictator.
  Khomeini undid the previous monarchy's efforts to advance women's rights in Iran by imposing laws that cherished gender discrimination: Beaches and sports were sex-segregated, married women were banned from attending regular schools, and women could not become judges. All girls above a certain age had to wear head coverings. Although many women had worn the veil during the revolution, they had not expected it to become mandatory, and a large number did not support it. Any woman violating the hijab law is punished by imprisonment, fines, and even lashing to this day.
Following the death of Mahsa Amini, a nationwide protest has gathered momentum and appears to have dulled the government's decades-old intimidation tactics. Slogans against the clerical leadership and chants of "Woman, life, freedom" echo throughout the city. Videos of schoolgirls waving their headscarves in the air and cutting their hair as they sing objection songs in classrooms have gone viral, as have videos and images of protesters fighting back against members of the intimidating paramilitary group Basij. On Oct. 1, thousands of people rallied in large cities such as Los Angeles, London, Toronto, Paris, Berlin, and Tokyo, in the largest coordinated effort to protest in recent history.
Asal Flodius (11) says, "It was really important for me to go to the protest in Los Angeles, especially since both of my parents were born and raised in Iran, and I felt that it would be wrong to stay silent. My people are fed up with the Iranian regime, and it's time they are granted their rightful freedoms."
Additionally, at least 185 people, including 23 children, have been killed by security forces, who have used weapons and tear gas, but many more have yet to be identified. Hundreds more have been arrested or injured in violent crackdowns, with the Iranian government saying protesters are a dangerous threat, blaming the US and Israel for spreading the unrest. Most recently, protests were reinvigorated by the death of 16-year-old Nika Shahkarami. 
Mariam Taheri (11) mentions, "The killing of protesters who just want to be heard is wrong and essentially just a fear tactic to stop the anti-dictatorship protests."
Security forces have been using the bodies of protesters as bargaining chips to silence the families of victims. Hadis Najafi, a protester in her early 20s, was shot dead by security forces. Authorities did not return her body for two days and asked her family to lie about the cause of her death. 
President Ebrahim Raisi has declared that threats to public security will not be tolerated and that protesters must be dealt with. Defying his warning, Iranians chant "We want regime change" and "death to Khamenei," the current supreme leader of Iran. Particularly concerning are the government's efforts to implement facial recognition in order to identify women not conforming to the strict hijab rules, and the disrupted access to the internet, Instagram, and WhatsApp.
Iranians such as Ali Daei, the all-time men's leading international soccer scorer has been banned from leaving Iran and had his passport seized after he expressed support for the protests. Iranian singer Shervin Hajipour posted his song "Baraye," meaning "for the sake of," to his Instagram on Sept. 28, and received 40 million views before authorities forced Hajipour to take it down and arrested him the following day. Iranian sport climber Elnaz Rekabi competed without the Islamic headscarf at the International Federation of Sport Climbing Asian Championship in Seoul on Oct. 16 and had her passport and mobile phone taken away upon arrival to Iran. 
Workers of Iran's oil refineries, Abadan Refinery and Asalouyeh Petrochemical, and Haft Tappeh Sugar Factory have gone on strike against the regime. More recently, workers of Iran's Steel Plant joined these strikes. Many believe the Islamic Republic is taking its final breaths. 
The tragedy of Mahsa Amini's death came to encompass a broad range of frustrations among Iranians, fed up with grinding poverty, repression, segregation, and human rights violations. Despite efforts from the Iranian government to suppress the protests, people across the country and the globe will not back down until the regime changes.
Leave a Comment
About the Contributor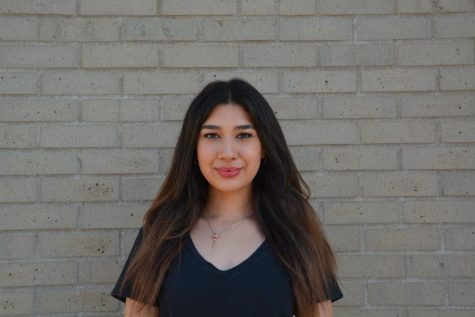 Yasmin Marouf, Staff Writer
Yasmin is currently a junior at Aliso Niguel High School, and she's thrilled to be a part of The Growling Wolverine newspaper for the first time! She...