Wolverines on Surfboards
Here in Southern California, where the weather is bright and sunny all year long, Aliso Niguel High School shines and thrives in its water sports. Many are familiar with ANHS' beloved swim and water polo teams. Their reputation precedes them and it is known to all that the ANHS wolverines conquer the pool. However, not a lot of people are aware of the wolverines that also conquer outside the pool, fields, and courts, in the ocean blue waves.
Both the Boy's and Girls' Surf teams are the underdogs of Aliso Niguel High and remain underestimated. Throughout their year-long season, the teams work hard nonstop as they test their strength and skills every week, without rest. The dedication and determination of the ANHS surfers is seen in their tough grind when they wake up early in the morning, at 6:30 to 8:00 am to practice. Every Monday, Wednesday, and Friday, both the boys and girls teams head down to Salt Creek beach to surf, while it's still dark and cold outside. 
So far this 2022 season has had its fair share of highs and lows for both surf teams, but they're commitment, efforts, and hard work has paid off. Although it hasn't been smooth sailing for them when it comes to their competitions, both the boys team and girls team are currently hanging on with a record of 2-3. 
However on the bright side, the girl longboarders are doing excellent and dominating the competition this school year with their current record of 4-0. According to Coach Werner, a few of these distinguished longboarders include Carolyn O'brien (10) and Jasmine Shaheen (10).
Head Coach Werner is a highly respected and appreciated individual by his athletes and peers. As he leads his players, he greatly stresses that this year, one of his main goals "is to see some of the athletes win individual honors at the league finals." 
At the end of the day, Coach Werner has his team's best interests at heart and their surfing and successes are his top priorities and concerns. His love for his team is seen in his goals and coaching. The toughness of his attitude and the difficult rigor of practices only pushes the surfers to be the best that they can. 
Aliso Niguel High School is nothing but a splash zone for wolverines as the ANHS Boys and Girls Surf teams continue to ride the wave this school year. They are bound to crash a few times, but with the support of their coach, fellow students, and each other, they are bound for greatness and victory.
Leave a Comment
About the Contributor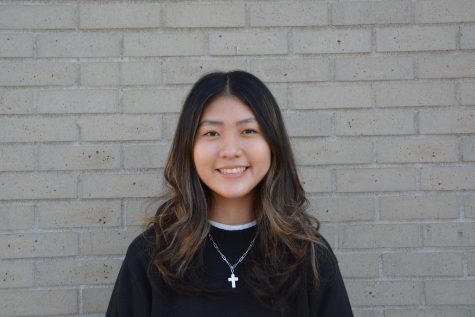 Victoria Baek, Photographer
Victoria is a sophomore at Aliso Niguel High School and this is her first year with The Growling Wolverine. She enjoys reading and quality time with her...