The Queens Funeral
Queen Elizabeth II, former Queen of the United Kingdom, passed away on Sept. 8, 2022 in  Balmoral Castle, the British royal family's estate in Aberdeenshire, Scotland. On Monday, Sept. 19, 2022 her funeral was conducted at Westminster Abbey and St. George's Chapel in Windsor. She had a state funeral and a committal ceremony. The funeral was the first monarch to be held in the Abbey since George II in 1760. 
Hundreds of people, world leaders and citizens, gathered to watch the official funeral of the longest reigning, 70 years, in the British monarchy.  In fact, there were such a large number of world leaders at the Queen's funeral that they had to be transported on a bus to Westminster Abbey in order to keep the traffic under control. Some world leaders that attended include US President Joe Biden and first Lady Dr. Jill Biden, Queen Mathilde and King Phillippe of Belgium, Canadian Prime Minister Justin Trudeau and his wife, Sophie Grégoire Trudeau, Japanese Emperor Naruhito and Empress Masako, and many more. 
The Queen's committal service at St. George's Chapel began at 4 p.m. and lasted one hour. Attendees included King Charles III along with his children, Prince Harry and Prince William, and his siblings, Princess Anne, Prince Edward and Prince Andrew. The Queen's televised service allowed for the public to hear the Queen's piper, Paul Burns, to play lament and even see the breaking of the Wand of Office. The Wand of Office, a tradition of a monarch, was broken by Lord Chamberlain and the pieces of the wand were then placed on the Queen's coffin to be buried with her. 
The Queen's final resting place is at King George VI memorial chapel, where her mother and father were buried. Additionally, Prince Philip's coffin will be moved to join the Queen. 
The queen's funeral had many touching moments. She had chosen her music that was played at the funeral such as "The Lord's My Shepherd" which was one of her favorite songs–in fact it was played at her wedding in 1947. Additionally, the flowers and wreath placed on her coffin came from the royal gardens including Buckingham Palace, Clarence House, and Highgrove House in Gloucestershire. Each plant had a symbolic value such as the myrtle, which had grown from the Queen's wedding bouquet from 1947. 
The members of the royal family could not keep as dry an eye as many of them were reported to have been crying. However, Camilla, the Queen Consort, Catherine, Princess of Wales, Meghan, Duchess of Sussex, and Princess Charlotte of Wales all wore specific jewelry to memorialize the Queen. The most cute attendants at the funeral were the Queen's pony, Emma, and two corgis, Sandy and Muick. They watched as the Queen's coffin went to St. George's Chapel. 
A guardsmen of the Queen, while on duty, collapsed during her funeral before she was taken to St. George's Chapel. He collapsed near Parliament Square. The guardsmen was carried away on a stretcher by medics. Additionally, a royal guard also fainted and fell off the podium near the Queen's coffin. Many members of the audience loudly gasped. In total at least 259 people needed medical attention while waiting to see the Queen's coffin. Many of those individuals were taken by St John's Ambulance Service.
Leave a Comment
About the Contributor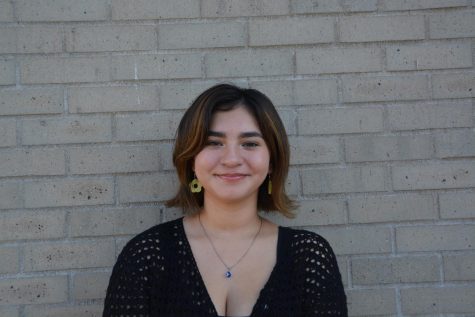 Mia Roman, Social Media Coordinator
Mia Roman is a senior at Aliso Niguel High School. This is Mia's third year on the Newspaper Staff. In her spare time, Mia enjoys listening to music and...