The Sophia Mason Case
Dhanta Johnson, who had been on the loose for many months, has now been arrested on suspicion of killing his step-daughter, Sophia Mason. Sophia Mason was an 8-year-old girl whose mother and stepfather exploited her in Merced, California. 
Sophia lived with her grandmother and attended school in Hayward, CA. However, Sophia's mother took her away in October of 2021, and they both moved out to Merced. Sophia's teachers have voiced their concerns, stating that she had not been attending school that much. Many people have also voiced their concerns about Sophia in a child welfare hotline since early 2021, stating that Sophia had been domestically abused by her mother and stepfather. A social worker from Kaiser Permanente also called the child welfare hotline in late 2021 and stated that it looked like Sophia had bruises and marks that look to be from cigarette burns. During this time at home, Sophia was not fed that often and was living in the shed where she irregularly took showers. However, Sophia's mother noticed that Sophia had fleeces and took her out of the shed to take her to the shower. The Merced police reported that  Jackson and Sophia were in the bathroom together and that's when her mother heard a loud thud. Sophia was reported missing by her grandmother in February of 2022 and was found deceased in the bathtub in March of 2022.  She had been there for almost a month until the police found her. 
Jackson fled the scene and was tracked down by police and arrested in Newark, CA on the 10th of September. 
California Attorney General said that Jackson had the help of "Several female acquaintances" while on the loose. These "female acquaintances" supplied Jackson with money, shelter, and transportation. The acquaintances were arrested on the 10th of September. The three females were from San Jose, Merced, and Newark. 
Sophia's mother, Samantha Johnson now faces charges of felony child abuse and first-degree murder. Johnson pleads not guilty claiming that she had not seen her daughter weeks before the murder. 
Jackson and Johnson made a quick appearance in court on the 14th of September. Jackson was expected to make a plea however, his arraignment provided Jackson more time to get his attorney.  
"He's [Jackson] indicated that he does have the means to hire an attorney and just needs time to do that," stated Deputy District Attorney Katie Gates.
Johnson was in the courtroom but was not seated. 
"They [Police] wrote many warrants, they [Police] spent many months tracking him [Jackson] down, so now it's our opportunity to present evidence in court and seek justice for Sophia," Gates stated. 
Sophia's family filed a claim against Almeda County with 30 allegations of negligence. They hired Attorney Carly Sanchez to help with the case of Sophia. Some of these filings include, failure to conduct in-person investigations within 10 days and failure to inform law enforcement about suspected cases of child abuse.
"I think that it's incredibly tragic that the adults who were in the position to do something about Sophia's circumstances instead looked the other way," commented Sanchez.
Alameda County now has 24 days to respond. 
On the 21st of September, Jackson pleaded not guilty to child abuse and murder. There have also been new charges added to the case from a 2010 robbery conviction in Alameda County. With these added charges along with child abuse and murder, Jackson would be in prison for life. 
Jackson told Judge Steve Slocum, that he would prefer to be in solitary confinement or a one-man cell. "Just by myself," Jackson requested to the judge. However, Judge Steve Slocum told Jackson, "I don't control how the jail classifies individuals. You would have to take that up with the administration of the jail."
Jackson is currently being held in John Latoracca Correctional Center without bail. It's uncertain whether Jackson would have a permanent attorney, on Wednesday he was represented by attorney Mark Siegel. 
Johnson was also charged with murder without bail. While the three females who have helped Jackson, have been charged with accessory to murder and bailed out of jail. However, Merced prosecutors expect the charges to be forthcoming. 
The next court hearing for Jackson will be on Nov. 2.
Leave a Comment
About the Contributor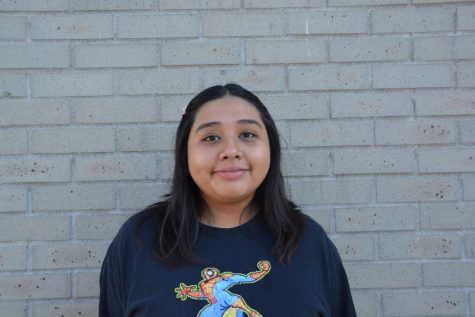 Jaylenne Pliego, Photographer
Jaylenne is a senior in high school, and likes listening to music and editing. She also enjoys writing articles.