California to Ban Sales of Gasoline-Powered Vehicles by 2035
California has decided to ban the sale of petroleum-only vehicles by 2035. This marks a key attempt by the state to tackle the effects of climate change. This originated from Governor Gavin Newsom's goal to target 2020 to speed the shift away from fossil fuels. This policy does not ban people from buying gas powered vehicles. However, it does slowly phase out the usage of these cars. 
The California Air and Resource Board has said that 35% of new vehicles sold in the state must either be electric, hybrid, or hydrogen-powered by 2026. These regulations would gradually increase to 68% of vehicle sales in 2030 and 100% by 2035. 
California is the biggest state in the U.S. in terms of population, with a gross domestic product of being the fifth-largest economy in the world. If this move works successfully, this would create a big change in energy efficiency throughout the world. 
While some car companies agree with this plan, the Alliance for Automotive Innovation—which represents General Motors, Volkswagen, and Toyota— believes that more should be done to enforce electric vehicles. They claim that the should be policies enacted that will determine the success of the transition.
There is considerable opposition coming from the American Fuel and Petrochemical Manufacturers. They called on President Biden and the Environmental Protection Agency to resist California's request. In their view, a Clean Air Act should be enforced and the ban on petroleum vehicles should not be put into place.
Meanwhile, other states have followed California's suit. Washington has set in law a goal for all new car sales to be those of zero emissions by 2030. They aim to take California's regulations by the end of the current year. Currently, Washington has one of highest per capita concentrations in the US, with electric vehicles counting for 8% of the registrations in July. 
California has approved the regulations on banning the sale of new gasoline powered cars. With California controlling a large percentage of the country's automotive sales, this act is sure to make a big difference in the response to climate change.
Leave a Comment
About the Contributor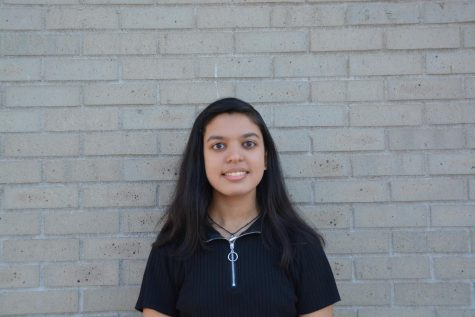 Akshata Tiwari, Senior Editor
Akshata is a senior who loves to be creative and put her mind to things. She has been in the newspaper for three years, and is excited to finish her final...