Aliso Viejo Farmers Market
Every Saturday, there is a farmers market at Aliso Viejo's Town Center right in the movie theater parking lot. They are open from 8 a.m. to 1 p.m. The farmers market mainly sells breakfast and groceries, but there are some interesting shops there too. 
There was a shop selling Hawaiian-themed items like leis and flower-patterned bags. The lady who ran the shop claimed to have made them all by hand, which is very impressive since all of the material seemed to be of high quality. Another place sold essence oil and let customers test all of their options.
One of the businesses, called I Love Oats, specializes in healthy, low-sugar oatmeal. They say that all the customer has to do is add milk to the oats and wait overnight for the results. The worker there explained, "Yeah, I've been helping out for a few months. We have chains in other markets, too. My favorite part of my job is getting to interact with all kinds of people." The good news is that they offer samples of every oatmeal flavor they have, ranging from blueberry to cinnamon. 
The more popular businesses were the ones that sold breakfast. There were places selling tamales and breakfast burritos. One of the breakfast shops, Crepes Tree, had an extremely long line. They make delicious crepes and even have a flap open in their tent so that customers can see how they make them. A young couple runs the business and cooks, saying, "We have a two-year-old in our tent here. We always have to make sure he's okay." Many of the people who work in the farmers market are hard workers who need more appreciation. Especially since it starts at 8 a.m., they have to wake up early to set up their tent. 
Lastly, they sell fresh strawberries and vegetables. There was a tent that was set up in front of a truck that delivered food straight from a farm. The farmers market is very well-organized and a perfect place to get breakfast and spend time with family, so don't forget to pay a quick visit this Saturday to the Aliso Viejo farmers market!
Leave a Comment
About the Contributor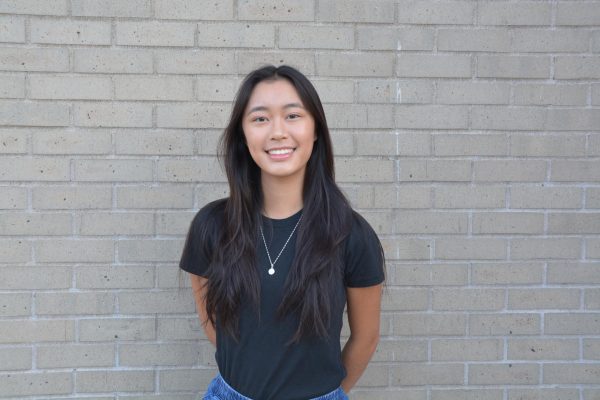 Eunnie Wu, Senior Editor, Copyeditor
Eunnie is a senior at Aliso Niguel high school and is a Senior Editor in the Growling Wolverine. She is involved in several different clubs and swim, and...