Winter Sports Roundup
Boys Soccer: The boys soccer team started their off season on Dec. 6th against Newport Harbor. They have started off very strong with their record being 5-0-3. The teams they have tied are El Toro, Estancia, and Valencia. Going into their first home game on Jan.7th they are 1-0 in league having beat Trabuco 3-0. Their next home League game is against Dana hills. There are definitely high hopes in coming out with the win because Dana is 0-1 and only 2-4. Aliso Niguel Boys soccer is a very strong team with many athletes that knows what it takes to win and win the league.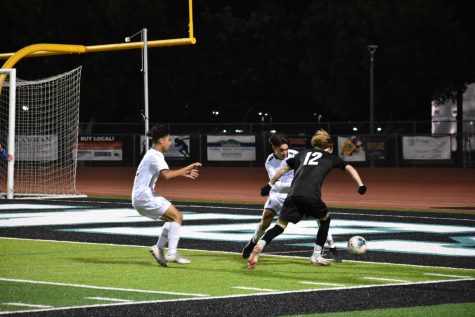 Girls Soccer: The girls soccer team started their off season on Dec. 11th against Fountain Valley Highschool. Overall the team is 3-2 this shows there will be big improvement towards future league games. The girls soccer team had their first league game against San Clemente on Jan. 4th they unfortunately lost. They lost 0-2. The girls soccer team still has time to improve and win their next league game against San Juan Hills on Jan. 11th. San juan is only 1-1 in league and also lost to San clemente. Aliso Niguels Girls Varsity soccer game should be the one to watch as both teams need to win in order to have a shot at placing high in their league. 
Boys Basketball: The boys basketball team played their first non-league game against Tesoro on Nov. 16th and has been playing non-league games each week since. In the beginning of December they traveled to Utah for a tournament. Brandon Novida (12) and Bill Duong (12) both noted that traveling with the team has been their favorite part of the season so far. During winter break the team played seven games, winning each of them. Their first game following break was on Jan. 5th and they started off the new year right with another win. The team has an overall winning record of 15-4 as they head into league. Brandon Novida (12) said "I'm looking forward to going into league and hopefully winning that championship." Bill Duong (12) also explained "I'm looking forward to competing in league and hopefully making a deep playoff run in CIF, along with just having a fun time with my team."
Girls Basketball: The girls basketball team started off their season on Nov. 17th with a close game against Beckman, losing by just five points. In the beginning of December, the team hosted the 3rd Annual Tom Riach Tournament where twelve schools came out to play in a series of games. They then played in the 2021 Troy Classic in early December winning one game against Capistrano Valley Christian. During winter break they played five games, winning two games by at least twenty points each. They had their first league game on Thursday Jan. 6th against San Clemente at home. Their current record is 4-13. Shanna Brown (11) said "My favorite part of the season so far was our team trip to Santa Barbra and breaking two school records in one game." She broke the season points record earning 408 points and the rebounds record with 30 rebounds. She also explained "I am most looking forward to league [and] competing against high level teams with my teammates."
Girls Water Polo: Girls Water Polo is currently 8-4.  Following Christmas, teams had a few practices before the New Year and then enjoyed the rest of the holiday season with family and friends. To start off the new year, varsity played on Jan. 5th at home losing 5-11 against University High School. All the girls are excited to continue their season and work together to improve and grow. 
Girls Wrestling: Over winter break, Aliso Niguel's Girls wrestling team competed in a tournament hosted by San Dimas High School against Capo Valley High School. Of the five varsity girls that went, 4 were able to place, and the team finished in the top ten. Daisy Sandoval (10) placed 8th, Angie Mojica (12) placed, Chloe Kitagawa (12) placed 3rd, and Roslyn Martinez (11) placed 1st. They will be competing in the league tournament on Jan. 22 where they hope to place top ten and move on to masters and eventually state. 
Boys Wrestling: Although their winter break tournament was cancelled, Aliso Niguel's Boys wrestling team worked hard over the break to prepare for the season ahead of them. Varsity captain Egan Anselmo (12) says that they, "are getting more and more prepared every day with practice" and the mat time experience that they gain from tournaments. They will be competing on Jan. 11 against Trabuco Hills, and will be competing in multiple tournaments on the weekends leading up to the league tournament that starts on Jan 22. Their goal is to place at the tournament and get everyone to CIF.
Leave a Comment