NMSQT Commended Students Recognized at ANHS
Each fall, juniors across the nation have the option to take the National Merit Scholarship Qualifying Test (NMSQT®), or the PSAT, which is offered by the College Board. Apart from serving as a chance to hone their taking skills before taking standardized tests, the PSAT also allows college-bound juniors to compete for merit scholarships. Registration for this exam is often completed by the school on behalf of students. If interested, students should see the guidance counselors at the beginning of the school year to make arrangements to take this exam in the fall.
Apart from scholarships, students' scores on the PSAT makes them eligible to receive awards based on their performance. The National Merit Scholarship Corporation (NMSC) receives all PSAT/NMSQT® scores and calculates the Selection Scores for each student. According to nationalmerit.org, out of the 1.5 million attendants, some 50,000 with the highest PSAT/NMSQT® Selection Index scores "are notified through their schools that they have qualified as either Commended Students or Semifinalists." 
In September, about 34,000 of these students received letters of Commendation in recognition of their performance on the PSAT/NMSQT® . Commended students are recognized based on the national Selection Index, which varies from year to year. 
This year, Aliso Niguel was proud to honor 16 Commended Students. Andersen Cheong (12), one of the Commended Students, mentions that "I went in with the goal to qualify for something, and am very happy with my results." He claims that he primarily took the PSAT as a means of testing out his skills before the actual standardized exam, just to acclimate to the hectic testing conditions due to COVID-19. It proved worthwhile, he says, as he achieved a much higher score in the SAT next spring.
Karina Patel (12) shares that "the PSAT, for me, was more of an opportunity to get started, especially since at the time the test centers were getting canceled a lot. It's great that I was recognized for something as well." Rachel Lei (12) shared a similar sentiment and mentioned that she is grateful for how well the school was able to manage and prepare students for the standardized testing environment.
Another designation given out by the NMSC is being named a Semifinalist. This year, throughout the nation, only 16,000 Semifinalists were recognized. The selection criteria varied by state, with more competitive states (such as California) garnering a higher Selection Index. While neither Semifinalists nor Commended Students receive immediate scholarships, National Merit Semifinalists have the chance to advance to the Finalist stage, and ultimately achieve Scholarship winner status. Throughout the entire country, 7,500 of these students receive a 2,500 dollar scholarship from the National Merit Scholarship Corporation.
Leave a Comment
About the Contributor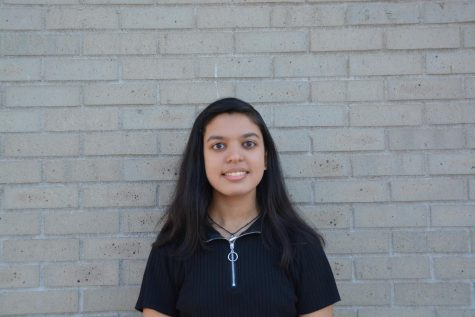 Akshata Tiwari, Senior Editor
Akshata is a senior who loves to be creative and put her mind to things. She has been in the newspaper for three years, and is excited to finish her final...