Eternal's Addition to the Marvel Universe
 Marvel Studios has added another installment to their expanding universe, "Eternals."
"Eternals" follows the events that happened in the previous Marvel movie, "Avengers: Endgame." The story is centered around a group of immortal heroes who live on Earth, but do not interfere or interact with humanity. However, these heroes reunite once again to beat the forces of The Deviants. 
The movie is directed by Chloé Zhao, who is the first Asian woman to be nominated for the Academy Award for Best Director. Zhao was also the first woman of color to be ever nominated in that category. The cast also has talented actresses and actors: Salma Hayek, Gemma Chan, Angelina Jolie, Don Lee, Kumail Nanjiani, Lauren Ridloff, Lia McHugh, Richard Madden, Brian Tryee Henry, and Kit Harrington. 
Zhao, in an interview with journalist Margaret Gardiner, commented on why she wanted to join the MCU. "I think what Marvel has been so incredible at- Kevin [Feige] and Nate [Moore] and the whole team- they knew from the moment I pitched the film that I really wanted the scope and scale at the same time as the intimacy, they knew I wanted both."
The movie was filmed in various locations such as London and Oxford in England, and the Canary Islands which is in Spanish territory. 
"Eternals" has been an anticipated film for almost two years now, since the announcement in Brazil's 2019 Comic Con. The movie has been pushed back many times because of the pandemic, which also meant that other Marvel movies have been as well. The "Eternals" was originally going to be released after "Black Widow" and was originally going to be released in November 2020. However, due to the pandemic it was pushed back and was replaced by "Shang-Chi," which became the second movie in phase four ofMarvel. 
Wrapping up Marvel movies in 2021, the "Eternals" is the last Marvel movie that comes out in 2021.
Leave a Comment
About the Contributor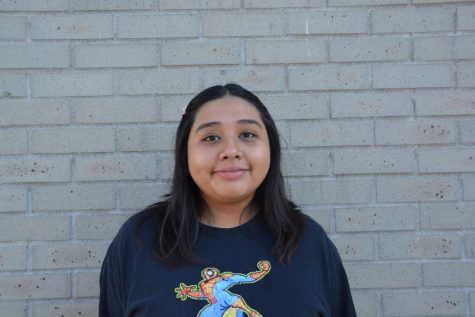 Jaylenne Pliego, Photographer
Jaylenne is a senior in high school, and likes listening to music and editing. She also enjoys writing articles.