Student Views on Holiday Rush
Every year the holiday season appears to come earlier and earlier. Nowadays, people are being advised to start their Christmas shopping before Thanksgiving to avoid the rush. According to the National Retail Federation (NFR), "Holiday sales for 2021 are expected to increase by 8.5 – 10.5% over 2020." 
This estimate is according to their calculations that set the shopping season to start from Nov. 1 through Dec. 31. 
One of the main reasons why shoppers are being encouraged to begin buying early is to decrease their chances of delays. "[M]any retailers encourage households to shop early to avoid a lack of inventory and shipping delay. With an early start, retailers have announced thousands of open positions in bricks-and-mortar stores and warehouse and distribution centers" (NRF). 
Another reason for stores encouraging shoppers to complete their shopping early is people still want the feel of brick-and-mortar stores. According to Retail Dive, "The ability to see, touch and feel products as well as take items home immediately rank highest among the reasons consumers choose to shop in stores versus online, according to Retail Dive's Consumer Survey."
This means that since people prefer a more tactile experience to the online shopping many became used to during the pandemic, stores are having to compensate by encouraging people to shop earlier. 
Another possible reason is the staff. According to the previous article by NRF, "NRF expects retailers will hire between 500,000 and 665,000 seasonal workers. That compares with 486,000 seasonal hires in 2020. Some of this hiring may have been pulled into October." If the hiring is delayed as this article says, it could be a cause of the problems with meeting supply and demand on time discussed earlier. 
When asked about their thoughts regarding the holiday, Jessie Blattner (12) commented, "[Her family] has started to plan, a little bit early this year because Hanukkah starts earlier and her family celebrates both Hanukkah and Christmas." A lot of people may also agree with her because some holidays may have caused them to do their holiday shopping in advance, therefore, they aren't as affected by the congestion. 
Another student on campus, Madisen Rollins (12), commented that "families are going to be the most affected because they won't be able to actually get gifts or get typical holiday food like turkey." She mentioned how on the news "they were saying [people] should have bought turkey last month to freeze them due to the delay of shipments sitting in the ports. 
Even with most of her holiday shopping done Jessie added, "[She] knows for her brother's gifts holiday rush may have an effect on what they are able to get for him."
An additional reason for the delay is that people have been buying more items than they did pre-pandemic. According to BBC, "Consumer goods demand is overall 22% higher compared with pre-pandemic levels (comparing February 2020 with August 2021). The Capital Economics group notes particularly big jumps in imports of toys, games and sporting goods (up 74%), as well as household appliances (up 49%)." 
This means that more shipments are coming into the country than the ports, which also ship to the inner regions of the country, than what they are used to dealing with. The article by the BBC also reports that the shipping companies have less personnel to help to deal with the shortage of workers. A senior fellow at the Peterson Institute for International Economics stated to the BBC, "largely this reflects the Delta variant, but also retirement, particularly among truck drivers." 
This also means that personnel are understaffed or are experiencing difficulty meeting the demands caused by the pandemic due to lack of staffing caused by a whole new wave of the pandemic. 
Leave a Comment
About the Contributor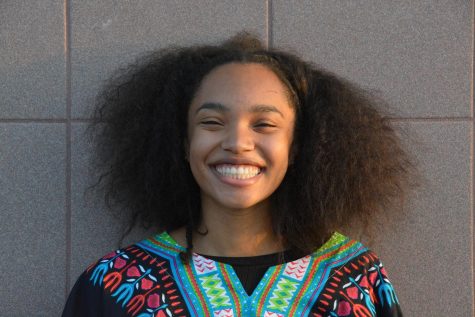 Ella Hamberry, Staff Writer
Ella is looking forward to her first year at the Growling Wolverine. She loves to read, write and have fun with her friends. This year she is looking forward...